Employment & Internships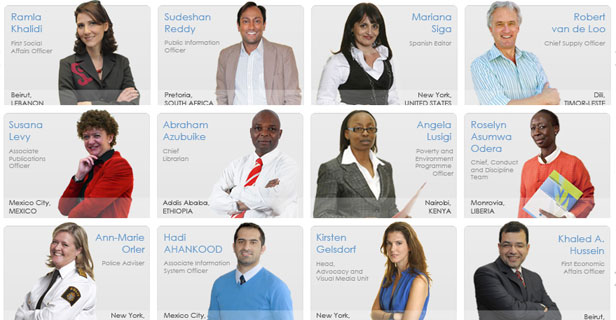 Young Professionals Programme
Competitive Examinations
The United Nations offers the Young Professionals Programme for Junior Professionals and examinations for positions requiring special language skills.
The Young Professionals Programme aims to bring fresh talent to the United Nations from un- and under-represented countries and to recognize talent already in the Organization.
Eligibility:

Nationality: Must hold the nationality of a participating member state at the time of application
Age: 32 years or younger
Education: First-level university degree acceptable for each job family
Language: Fluency in English or French
Experience: No experience required
The United Nations Information Service in Vienna (UNIS) holds preparatory workshops for YPP candidates to assist them with preparing for the written and orals exams and providing useful background information.
While all official information for YPP participants is available and to be checked through the official YPP website on the UN's career portal we are posting here the power point presentations of the three workshops (held in 2011 and 2012) as reference and background information for participants.
2012 Presentations
United Nations Careers (Sonja Wintersberger, UNIS)
The YPP process (Pieter Delcour, UNRoD, Gerhard Tripp, OHRM)
Competency-Based Interviews (Pieter Delcour, UNRoD, Gerhard Tripp, OHRM)
The Austrian Junior Professional Officer Programme (Elisabeth Marschang, Austrian Foreign Ministry)
The YPP Road (Szilvia Petkov, UNODC)
2011 Presentations
Power Point presentation used by UNIS Acting Director Janos Tisovszky in the Ljubljana and Budapest workshops
Power point presentations used by experts in the Vienna workshop:
The YPP Process - (Gerhard Tripp, OHRM Vienna)
Preparing for the written exam - (Pieter Delcour, UNRoD, Vienna)
Preparing for the oral exam: competency based interviews - (Gerhard Tripp, OHRM Vienna)
Written Exam
Time-keeping is extremely important ( Four and a half hours seems long, but there is a lot of writing to be done. Avoid spending too much time on familiar topics.)
Practice hand writing ahead of time. Practice time keeping. ( Do a full four and a half hour written exam with all four parts to check how much time you need for each, and to get a feeling for it. This also helps with practising handwriting as well.)
Concentrate on the general part and try to do it really well (This part of the exam is marked first and candidates who do not score highly in this part are eliminated)
Summarizing of texts is difficult ( not because of the content but because of the hand writing - normally with computers you can easily do a word count but with handwriting you do not really know how many words you have written)
For summary writing, practise summarizing UN documents and time yourself
Read and check the UN/NY website on a daily basis.
Judge the value of each question and distribute your time accordingly.
Answer every question, even if you do not know or are not sure. (Take an educated guess. If you don't write anything you automatically get 0 points, but there are no minus points for wrong answers.)
Oral Exam
know the UN Core Competencies and be able to relate to them with concrete personal examples and communicate these in a concise manner
Further information about YPP is available on the Careers Portal, where all examination updates will be posted. In addition, the Frequently Asked Questions may be useful for anybody who is considering taking the exam.
Competitive examinations for recruitment and placement in posts requiring specific language skills in the Professional category are administered separately, and are not included in this examination.