Events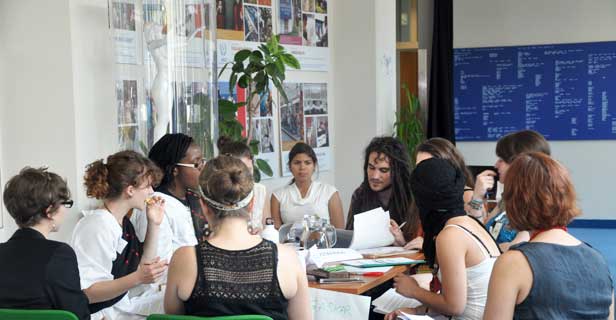 Climate Change discussed at University Model United Nations
In cooperation with the United Nations Information Service (UNIS) in Vienna, the Department of International Development at the University of Vienna organized a Model United Nations conference in the Vienna International Centre (VIC) on 19 June 2013. This year's discussed topic was "Climate change".
The conference was opened by UNIS Director Janos Tisovszky. In his welcome speech he emphasized the essential role young people play in society today: "You are not only the leaders of the future, you are more and more so part of today's agents of change." He also underlined the importance of the theme of the model UN: "Climate change is indeed one of those global challenges that need common and sustained effort - it is very much about what we are able to accomplish in the here and now that will pretty much determine our future."
During the whole day the students were having heated discussions, trying to find resolutions on the issue of climate change. Although the task was not easy, they still enjoyed it: "It is amazing to be actually here, in the UN, and have the chance to conduct this simulation. I understand now how difficult decisions are made in UN, because the countries have their own interests at heart. And the UN has to consider all countries' interests," said one of the participants.
The lecturers of the course "International development in its historic context", Wolfgang Gruber and Stephan Koehler, were monitoring the group discussions and presentations: "This is the climax of the seminar. The students prepared very hard for their presentations during the whole semester and now they have the chance to apply their theoretical knowledge in a practical way in a very high level context," said Mr. Gruber.
Last years' UN Youth Delegate, Melissa Ofoedu, also took part in the Model UN conference. Even though she has attended a real UN conference, she still described the Model UN as interesting and exciting: "I think it is really important for young people to attend conferences like this, even though they are just simulations. Although we prepared for it the whole semester, we still could not imagine what it would be like in the end. I believe it was really helpful for a lot of students and they have much better understanding of the UN now than before."
Model United Nations conferences give participants the possibility to gain firsthand experience in debating and public speaking as well as in developing negotiation skills in a simulated environment with many negotiating partners. Furthermore, they offer extraordinary opportunities to learn more about the work of the United Nations and major global issues. Students leave Model United Nations with a better and keener awareness about what UN does as an organization and what goals it aims to achieve.