Events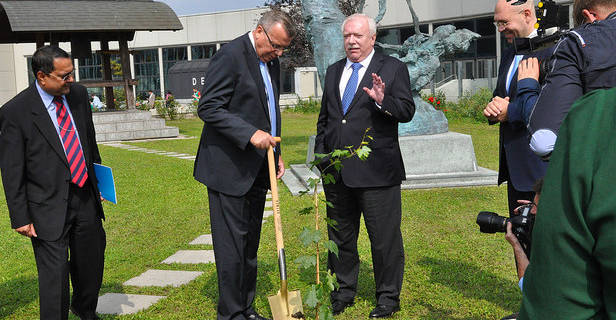 True international spirit: Vienna International Centre at 35
"Vienna is different, Vienna is special." With these words, the Director-General of the United Nations Office at Vienna, Yury Fedotov, opened a ceremony to mark the 35th anniversary of Vienna International Centre and an exhibition about "UNO City".
The Vienna International Centre (VIC), which Austrians call "UNO City" was inaugurated as the third UN Headquarters after New York and Geneva on 23 August 1979. (Nairobi followed as the fourth in 1996.)
"In our work here we often speak about the 'Vienna Spirit' - namely, the willingness and dedication of all concerned to pull together to find joint solutions, even on the most difficult topics," said Mr. Fedotov, adding that this Vienna Spirit "speaks to the founding purpose and principles of the United Nations".
The commemorative event on 10 September at the VIC in cooperation with the City of Vienna, underscored the crucial contribution of Vienna-based organizations to Austria's international status and the UN's work around the world.
"From combating drugs and crime; to addressing nuclear weapons and testing; advancing sustainable development and energy; and promoting the peaceful use of outer space. These are just some of the challenges the diverse UN organisations and entities here at the VIC deal with," said Mr. Fedotov.
He congratulated 20 staff members who have each worked at the VIC for 35 years and thanked the City of Vienna and the Austrian Government for their support. He also took note of a recent free-guided tours event when the VIC opened its doors to more than 2,000 visitors from Austria and beyond as a way to give back to the community.
The Mayor of Vienna, Michael Häupl, noted the VIC had become one of the main symbols of Vienna and, by hosting the only United Nations headquarters in the European Union, the Austrian capital had enriched its vibrant and cosmopolitan spirit.
The ceremony closed with the Mayor handing over a specially designed Magnum bottle of wine to Director-General Fedotov as a symbol of the grapevine which was then planted in the garden of the VIC's Memorial Plaza by the Mayor and the Director-General. During the event the Wiener Tschuschenkapelle, a well-known local ensemble, provided a fitting musical accompaniment as guests and staff viewed the exhibition, which the City of Vienna put together with help from the UN Information Service in Vienna and which remains on display until 18 September.