Events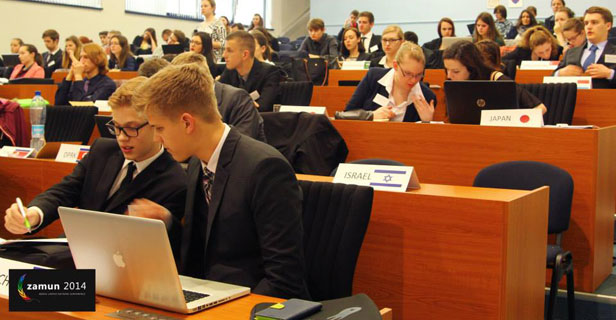 Future leaders at the 3rd ZAMUN Model UN Conference 2014
About 80 international delegates from Austria, Finland, France, Germany, India, Luxembourg, Netherlands, Russia and Slovakia, aged from 15 to 20, gathered for a high school academic simulation of the United Nations held in the premises of the Office of the Žilina self-governing region from 9 - 11 April 2014.
The 3 rd ZAMUN Model UN Conference was organized by the bilingual high school T. Ruzicku 3 Žilina, in cooperation with the Žilina self-governing region, the town of Žilina, Regional Youth Council of Žilina, United Nations Information Service (UNIS) Vienna and the French-Slovak Association FRASK, supported by the Embassies of France, India, Spain, the United States and the Slovak Ministry of Foreign and European Affairs.
Hosting special guests from the Indian AIMUN Model UN Conference from the Amity University, India, this year´s ZAMUN also introduced a new Committee in French, debating the Crimean Referendum.
Addressing the delegates and guests in her video message at the opening ceremony on the first day, the Deputy to the Director of UNIS Vienna, Anne Thomas stated that "many of today´s leaders also took part in such events when they were younger - including the UN Secretary-General, Ban Ki-moon himself. Young Slovaks understand very well that responsibility, activism and motivated participation are key to solving present and future challenges. Their participation at the ZAMUN Model UN conference will help us to refresh the development agenda, build bridges across communities and countries."
The ZAMUN was simulating sessions of the General Assembly (Illegal Organ Trade), the UN Security Council (South China Sea Crisis), the UN Office on Drugs and Crime (Strategies to counter illicit drugs), the UN Human Rights Council (Individual Right to privacy) and of the Disarmament and International Security Committee (International Intervention in Civil Wars).