Events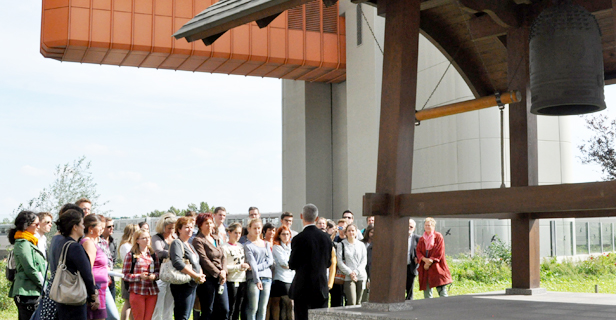 Building bridges for peace and cooperation: 40 pupils from Danube Region countries join Peace Day event at the United Nations in Vienna
The Japanese Peace Bell was ringing across the United Nations Headquarters in Vienna at noon on 18 th September for the International Day of Peace.  It was calling the nations across the world to unite for peace.  "It's a big day in the UN calendar," said Martin Nesirky, Acting Director of the United Nations Information Service (UNIS) Vienna when welcoming the participants to the Vienna International Centre (VIC).
Forty high school students from several different countries in the Danube Region (namely from Hungary, Austria, Slovakia, Slovenia, Romania, Serbia and Ukraine) participated in the Peace Day event and visited the Vienna International Centre (VIC) as part of a project called "Junge Donaubrücken" ("Young Danube Bridges"). The aim of the initiative is to connect young people from different countries for future cooperation and learn more about the protection of the Danube River and sustainable development in the region.
After a guided tour of the VIC offered by the UNIS Vienna Visitors Service, Benedikt Mandl from the International Commission for the Protection of the Danube River (ICPDR) talked about the importance of international economic, social and environmental cooperation, warning about the dangers of climate change (like floods) on our everyday life. He also stressed the need to protect water as a core element in the current corporate social responsibility for business. "We should not just be environmental fundamentalists, but the conscious integrative partners," concluded Mr. Mandl.
During an interactive, lively debate with representatives of the NGO Committee on Peace, the students discussed the importance of peace and conflict prevention, working with refugees, and prohibition of nuclear weapons. Students gained an overview of how the different NGOs work with United Nations to promote peace and citizens' participation. The NGO representatives encouraged the young people to take part in intercultural initiatives, like "Biking for Peace" - cycling tours to the post-conflict countries to build bridges of cross-cultural understanding and respect.
This exactly matched with the words of the UN Secretary-General Ban Ki-Moon in his message for the day: "Peace is a long road that we must travel together - step by step, beginning today."  In light of current conflicts and humanitarian disasters, sustaining peace has become a global issue for every one of us: "Peace and security are essential foundations for social progress and sustainable development," the Secretary-General said.
At noon all the Peace day participants had a chance to ring the Peace Bell in the Memorial Plaza of the VIC and to remind the world of the need to unite for peace for our common future.