Events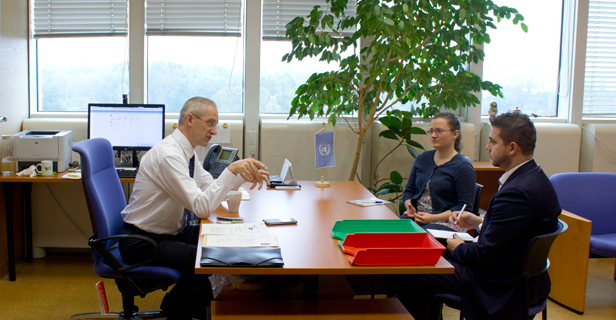 UN Vienna from the inside:  78 students participating in this year's  Shadowing Programme
"Take a look how the UN works from the inside and decide whether it's something for you," said Martin Nesirky, Director of UNIS Vienna, when launching this year's "Shadowing Programme".
For the third year in a row, 78 students from 15 different universities in Hungary, Slovakia, Slovenia and Austria have the opportunity to "shadow" 50 UN staff members on one day between 24 October and 24 November 2014 at different Vienna-based UN organizations.
Participating UN Staff members represent almost all of the Vienna-based UN Organizations (IAEA, CTBTO, UNIS, UNODC, UNIDO, UNHCR, UNCITRAL, UNOV, UNODA, SUSTAINABLE ENERGY FOR ALL, UNEP, UNOOSA).
Many of the participating students attend Vienna-based universities (University of Vienna, Diplomatic Academy Vienna, Technical University of Vienna, Vienna University of Business and Economics, University for Natural Resources and Life Sciences).  
Eighteen out of the 78 students come from the University of Graz, Medical University of Graz, University of Innsbruck, Management Centre Innsbruck (MCI) and University of Salzburg, while others travel from the University of Maribor (Slovenia), University of Ljubljana (Slovenia), Central European University (Hungary), Corvinus University of Budapest, Economic University Bratislava (Slovakia), Pavol Jozef Safarik University (Slovakia) and University of Matej Bel (Slovakia).
"Shadows" have a chance to experience first-hand how different UN employees work, shadowing security guards, interpreters, laboratory technicians, legal officers, protocol officers, public information officers and many more.
"Following the work of the UN Refugee Agency (UNHCR) for one day has confirmed that this is my dream job," shared Virginia Ottolina from the Diplomatic Academy Vienna, when asked about her Shadowing day. Another participant, Guido Almerigogna, who spent a day at the Comprehensive Nuclear Test-Ban Treaty Organization (CTBTO), said that his respective UN Staff member at the organization "was very kind and gave me a good insight of his personal work as well as of the work of the agency."
For students coming from Hungary, Slovakia, Slovenia and Austrian provinces (Graz, Salzburg and Innsbruck), UNIS Vienna has also organized Meet & Greet Sessions with the respective country's Permanent Missions to the UN in Vienna. This is a great chance for Shadowing Programme participants to get a feeling of how diplomats from their countries work together with the United Nations.
During the course of the Shadowing Programme 2014, UNIS Vienna has also organized a free guided tour of the Vienna International Centre and will hold a career workshop on 26 November for all participating students. The workshop is designed to give them an idea of how the UN works and what the different career options within organization are.