EVENTS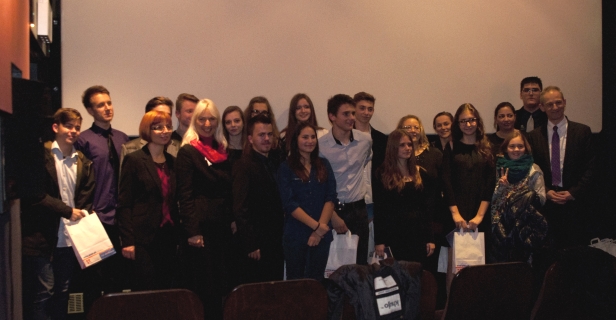 Human Rights and Integration through the eyes of young people: "This Human World" Student Short Film Competition
Human rights violations, integration and the problems facing Roma people, intercultural understanding and bullying in modern schools...these were just some of the important topics looked at by high-school students from Hungary, Slovakia and Slovenia in the award-winning films for "This Human World" Students Short Film Festival.
Talented youngsters between the ages of 10 and 20, submitted a range of films for the competition, all less than 3 minutes long, in which they showed what integration means to them.
The award ceremony took place  on 27 November at the Topkino in Vienna. The first place was awarded to a film entitled "Class C" by Laura Lukács (Hungary), second place went to "Integration" film by Mia Drazilova and Sarah Fathiova (Slovakia), and the third prize to "Praised but Violated", a film by "Gymnasium Ptuj" (Slovenia).
"Inclusive societies are the foundation for peaceful co-existence - within a country as well as across borders and it's a year-round commitment - 365 days a year. The United Nations will continue to work for human rights everywhere. The Secretary-General of the United Nations launched the Human Rights Up Front initiative precisely to place human rights at the centre of all our activities," said Martin Nesirky, Director of the United Nations Information Service (UNIS) Vienna when congratulating the winners.
Ruth Schöffl from the Austrian National Office of the United Nations High Commissioner for Refugees (UNHCR), emphasized: "In your short films you show what it means to be integrated, how important it is to be with somebody. And most important that we have to respect human rights."
Laura Lukács, the first prize winner from Hungary, shared her future plans with UNIS Vienna -  to make new films about the integration of Roma people and women's equality.  
All the winners received their prizes from Blanka Jamnisek, the Permanent Representative of Slovenia, András Pamuk, the Deputy Permanent Representative of Hungary, and Albin Otruba, the Deputy Permanent Representative of Slovakia. Students were actively engaged in discussions about the role of human rights with the diplomats of their respective countries during the evening.
For the sixth year in a row the Student Short Film Competition on Human Rights has been organized by "This Human World" Film Festival together with United Nations Information Service (UNIS) Vienna, Office of the United Nations High Commissioner for Refugees (UNHCR) in Austria with the support of the Austrian Federal Ministry of Education and Women's Affairs and the City of Vienna.