Events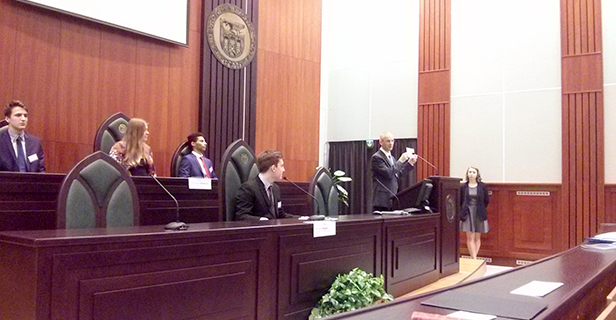 BratMUN 2015: students debate global issues
BRATISLAVA, 22 November 2015 - About 190 students from Slovakia, Czech Republic, Poland, Hungary, Germany, Slovenia, Greece, Turkey, Sweden and Italy gathered at the yearly BratMUN model UN conference held in the premises of the Pan-European University, Bratislava, from 19 to 22 November 2015.
This year students, acting as delegates representing UN Member States, debated paying reparations for colonialism (Special Political and Decolonization Committee, SPECPOL), responding to the refugee crisis (UN Refugee Agency, UNHCR), reforming medical patents (World Trade Organization, WTO), the situation of the Rohingya minority (Human rights Council), the Islamic State (Security Council), restitution of cultural property (UN Educational, Scientific and Cultural Organization, UNESCO), freedom of speech in the digital age (Social, Humanitarian and Cultural Affairs Committee, SOCHUM), reforming the carbon trade (UN Environment Assembly) and regulating sweatshops (General Assembly).
In his keynote speech at the opening, Martin Nesirky, Director of UNIS Vienna, highlighted that  by participating in BratMUN, students were joining some half a million young people who take part every year in Model UN events around the world. Many of today´s leaders also took part in such events when they were younger including the UN Secretary-General himself, Ban Ki-moon.
He also mentioned that the Secretary-General during his visit to Slovakia in October noted that there is a proud tradition of model UN conferences in Slovakia and encouraged BratMUN participants to cooperate with other MUN conferences in Slovakia, such as SlovakMUN in Bratislava, ZAMUN in Žilina as well as to join the United Nations Association of Slovakia (UNA) as another way to support the ideals and aims of the United Nations. In this way young people can deepen mutual understanding and support each other.
The BratMUN 2015 model United Nations conference was organized by students of the Baccalaureate programme (IB) programme of Gymnázium Jura Hronca in Bratislava, under the auspices of President Andrej Kiska and the United Nations Information service (UNIS) Vienna.