Events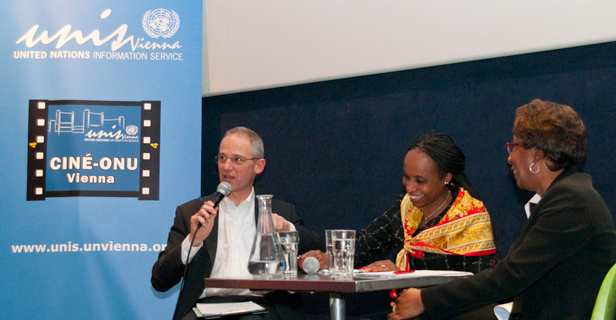 "Any society that silences its women, has no future": Cine-ONU Vienna screening of "The Supreme Price" documentary
 "The world will never realize 100 per cent of its goals if 50 per cent of its people cannot realize their full potential," said Ban Ki-moon, United Nations Secretary-General,  referring to the slow progress of the world community in achieving gender equality and calling for more action to advance the cause of women's human rights.
On the occasion of International Women's Day, celebrated worldwide on 8 March, the powerful film "The Supreme Price" by Joanna Lipper was screened as part of the monthly Cine-ONU Vienna film series.  This feature-length documentary traces the evolution of the Pro-Democracy Movement in Nigeria and the efforts to increase the participation of women in leadership roles. After the annulment of her father's victory in Nigeria's 1993 Presidential Election and her mother's assassination by the ruling military dictatorship, Hafsat Abiola is taking a stand in continuing the fight for Nigeria's transition into a civil state, the empowerment of women in society and their right to participate in the political process. She faces the challenge of transforming a corrupt culture of governance into a democracy capable of serving women, Nigeria's  most marginalized population. "Any society that silences its women has no future," said Hafsat Abiola at the end of the film.
The panel discussion afterwards, moderated by Martin Nesirky, Director of the United Nations Information Service Vienna, featured distinguished experts: the Director of the Policy-making Organs Secretariat, Advocacy and Communications,  at the United Nations Industrial Development Organization (UNIDO) and former Minister of Industry, Trade and Private Sector Development of Mali, Fatou Haidara, and University Assistant at the African Studies Institute of the University of Vienna, Tomi Adeaga.
"Education is key when it comes to empowering women. When you are educated, you have more consciousness," said Ms. Haidara when asked about her own personal experience and the challenges she faced as a woman in politics. Ms. Haidara was the youngest  minister appointed in the history of Mali and was responsible for youth, vocational training and employment. She also said that "it doesn't matter if you are a boy or a girl, it's all about what you have to do in work. But as women we have to prove ourselves every day to show we deserve trust and confidence."
Ms. Haidara underlined the important work that the United Nations Industrial Development Organization (UNIDO) is doing in the field to empower women and foster women's entrepreneurship in developing countries: "My first involvement with UNIDO was with a project dealing with fighting poverty among women living in  rural areas". She emphasized that UNIDO is fully engaged in sustainable projects for women, for example in the agricultural sector and provides training for female entrepreneurs.   
Ms. Adeaga shared her views and knowledge about the situation of women's empowerment in her native country Nigeria as well as in Africa generally: "Women have already  made a difference in politics in Africa today, and they have always fought for what they wanted." Ms. Adeaga mentioned that African women nowadays are redefining their traditional roles in society and this is an important reminders of what has been lost in history.
All panelists agreed that there is still a long way to go in achieving gender equality and fostering women's empowerment.  As  UN Secretary-General Ban Ki-moon underscored in his message for the International Women's Day 2015: "Empowered women and girls are the best hope for sustainable development following conflict. (…) When we unleash the power of women, we can secure the future for all."