Events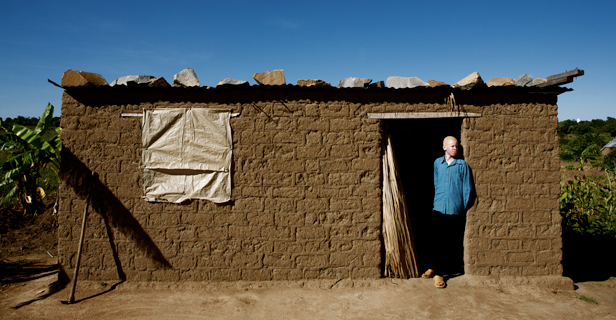 "Nobody's perfect.": Ciné-ONU film screening of In the Shadow of the Sun
Ghosts. That is what albinos used to be thought of in Africa. When they died, they were said to simply disappear.
The myth of their disappearance likely stems from the culture of discrimination against African albinos, which saw them segregated from their societies and even killed, according to the British filmmaker Harry Freeland. With his film, In the Shadow of the Sun, he seeks to raise awareness of the perilous existence albinism brings with it in Tanzania, but also look beyond the tragedy and uncover the hidden strength in the face of such adversity.
For this month's Ciné-ONU, the United Nations Information Service (UNIS) Vienna in cooperation with Topkino showed Freeland's award-winning film. After the screening, UNIS director Martin Nesirky moderated a discussion with the director himself and Dr. Rosemarie Moser, a dermatologist and president of Tumaini, an NGO devoted to improving the living conditions of people with albinism in Africa.
The belief in magical properties of people with albinism has created a market for albino body parts. Individuals with albinism are mutilated, and many have died of their injuries. Media coverage of the albinos in Africa tends to focus on the violence against them, or, in Freeland's words, "only scratches the surface".
In the Shadow of the Sun explores albinism in Tanzania in all its facets. The film introduces us to two individuals with albinism whose stories are told against the backdrop of discrimination against people like them. Josephat Torner is an outspoken albino rights activist, who tours the continent to educate communities and dispel myths about albinos. Vedastus is a gifted young man whose dream is to go back to school and get an education. Other actors in this story are also given a voice, from the witchdoctor to the fisherman, who reveal what could drive people to such savage acts: a chance to escape poverty.
During the discussion, Dr. Moser explained that although beliefs about albinos as bearers of luck have existed for a long time, a dangerous concoction of witchcraft, lack of education, and poverty has escalated the situation into physical violence and persecution of individuals with albinism.
While the film is a tragic portrait of the horrors humans inflict upon each other, it is also a testimony to the power of education. After the extraordinary global response to his debut feature film, Harry Freeland founded Standing Voice, a UK-based charity with the aim of promoting the social inclusion of people with albinism in Tanzania. Working with a wide range of local actors, Standing Voice is educating communities on albinism and encouraging a coordinated response against the attacks.
In the Shadow of the Sun is a tragic but uplifting tale of overcoming differences. As Vedastus puts it: "Nobody's perfect."
For more information, please visit the following websites:
www.intheshadowofthesun.org
www.standingvoice.org