Events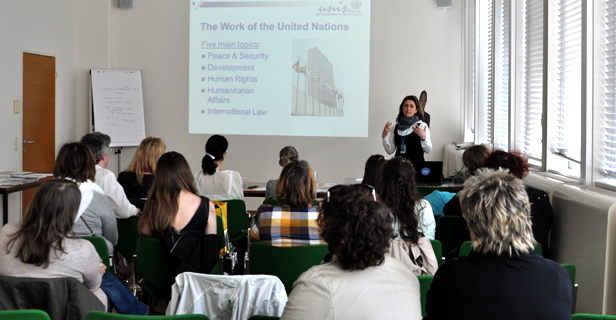 Teaching the United Nations: Teachers' Workshops at the Vienna International Centre
The United Nations deals with a range of topics relevant for young people from climate change to tackling threats to peace and security. The United Nations Information Service (UNIS), in cooperation with the University of Teacher Education in Vienna, organizes teachers' workshops, with the aim of inspiring teachers as well as advising them on how to integrate these global issues into their curricula.
After a guided tour of the VIC, the participants are given a short introduction to the United Nations followed by a presentation on some of the many UN topics.
On Tuesday, April 14, secondary school teachers visited the Vienna International Centre (VIC) to take part in a workshop on sustainable development and refugees. A workshop for English teachers, which dealt with the challenging issues of children soldiers, refugees and hunger was held the week after, on April 23 and 29. A workshop for primary school teachers on the topic of refugees and global hunger took place on 12 May.
The participants were also informed about the upcoming UN in Classrooms initiative launched on the occasion of UN70, whereby UN staff members will visit schools at the request of teachers and give an interactive lesson on the United Nations.
During the workshop, the teachers were made aware of the variety of teaching material available on these topics. Ranging from background information, worksheets, videos, games, competitions, and even a mobile phone application, these didactic resources can easily be used in the classroom to engage students of different ages with the subject matter.
Each workshop ended with a group activity, during which participants had the opportunity to exchange views and draft a lesson plan on one of the topics. They were encouraged to make use of the new teaching materials provided.
The response was overwhelmingly positive. "Overall, the teachers' workshop was a very good experience. I enjoyed the tour and the presentations were informative. I'm impressed by the amount of teaching material available," said one participant. "I will definitely recommend it to my colleagues."