Events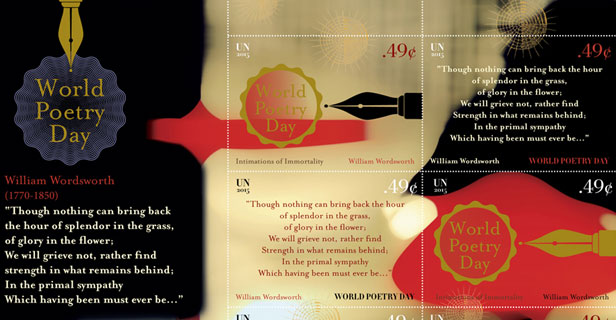 World Poetry Day now on UN Stamps
The United Nations Postal Administration (UNPA) issued a set of six stamps to commemorate World Poetry Day on 21 March.
Declared by the United Nations Educational, Scientific and Cultural Organization (UNESCO) in 1999, one of the main aims of World Poetry Day is to support linguistic diversity through poetic expression and to offer endangered languages the opportunity to be heard within their communities.
As the Director General of UNESCO, Irina Bokova, says in her Message for the Day: "poetry is the universal human song, expressing the aspiration of every woman and man to apprehend the world and share this understanding with others."
The new stamps were designed by Sergio Baradat (United Nations) and each stamp features a poem in one of the six official languages of the United Nations and illustrates a universal truth: The Evanescence of Time, Forgiveness, Longing, Love, Wisdom and Nature.
The new stamps and "first-day covers" as well as other United Nations philatelic products are available at the UNPA sales counter at Gate 1 of the Vienna International Centre on working days from 10:00 to 16:00 hours or through the UNPA website.