Events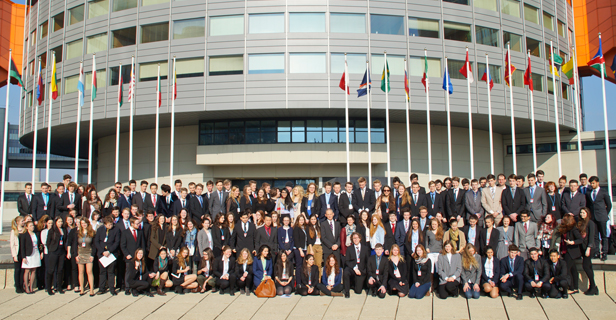 Vienna Schools Model United Nations: more than 170 highschool students get a first-hand experience of UN decision-making at the Vienna International Centre
For three days, from 11 - 13 February 2015, the Vienna International Centre (VIC) and the premises of the United Nations Information Service (UNIS) Vienna transformed into an arena for young people to take part in intense diplomatic discussions and negotiations,while simulating a General Assembly meeting.. More than 170 high school students from 20 schools in Vienna, Hamburg, Augsburg and the UNESCO school in Essen participated in this year's Vienna Schools Model United Nations (VSMUN).
Each participant represented a particular Member State of the United Nations and worked in one of ten committees that had to discuss and develop resolutions on a variety of topics: the right to food, equal rights for lesbian, gay, bisexual, transgender and intersex people (LGBTI), child labour, Internet freedom, sustainable development goals, third party military interventions, representation and sovereignty, counterfeiting, conflicts over resources and blood diamonds.
"Model United Nations teach you to work together and to understand each other's positions and different cultures better. In short, they prepare you to live together on this small planet," said Martin Nesirky, Director of the United Nations Information Service (UNIS) Vienna, when greeting the VSMUN delegates. He also highlighted the 70 th Anniversary of the United Nations, being celebrated this year: "2015 is a year in which we look back at the organization's history, and its many remarkable successes, and take stock of those areas where it has performed less well. But it is also a year in which we look ahead, promoting the final push for the Millennium Development Goals".
"International cooperation is very important nowadays," said Florian Riepl, high school teacher and organizer of the Vienna Schools Model United Nations who emphasized: "With all of the big challenges that humanity is facing at the moment, like the conflict in the Middle East, Africa and in Eastern Europe, famine, or the increasing social inequality, the United Nations and the international community is an important platform, for keeping the peace and to ensure a dignified life for everyone in this world."
After three days of fruitful work, negotiations and intensive discussions, the simulated General Assembly was held. Some draft resolutions, like the one on military intervention were not adopted. Students had learned to work together and take into account the interests of other parties.
Andrea Stoiber, who chaired one of the committees, said: "The Vienna Schools Model UN is an outstanding opportunity for the students to become a delegate of a particular country and to get a feeling of how difficult it is to reach international agreement."
"It was very interesting for me to represent Qatar at this simulation. I will definitely take part in another Model United Nations in the future," shared one participant, when asked about the event.
Vienna Schools Model United Nations is a unique chance for high school students to undertake experiential learning about the work of the United Nations, its decision-making processes through simulation as well as develop skills in debating intercultural communications and allow students to make new friends and share experiences.