Events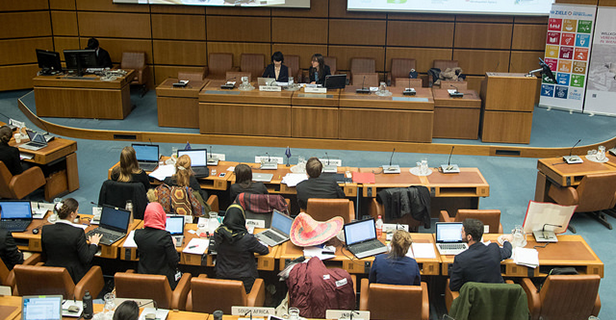 Students discuss climate and migration at Model UN Conference in Vienna
VIENNA, 14/15 January 2016 - The new year started with a Model United Nations (MUN) conference at the Vienna International Centre (VIC), which simulated the General Assembly in New York. Up to 100 students from different universities participated at the MUN as delegates, interpreters and observers.
The extremely timely topic of Climate and Migration was chosen for this year's negotiations. Tackling climate change and its impacts will be a defining challenge for future generations and which could impact on the migration of people.  
"The Secretary-General has stressed on many occasions that we are the last generation that can take steps to avoid the worst impacts of climate change. We have a profound responsibility to protect and assist the world's poorest and most vulnerable people and to pass on to future generations a planet that is thriving and healthy," said Martin Nesirky, Director of the UN Information Service (UNIS) Vienna in his opening remarks to the event.
Petra Steinkogler, one of the participating students summarized her experience: "I really liked the conference, particularly slipping into the role of a delegate, just as at a real conference. Beforehand my team colleagues and I could not quite imagine how the experience would go, but once we entered the building and took our seats in the conference room we were ready to negotiate as our player. It is great that we had the opportunity to negotiate on a topic of such relevance and timeliness as climate change and migration at the United Nations in Vienna."
The Model United Nations Simulation was organized by the University of Vienna, the University of Natural Resources and Applied Life Sciences Vienna (BOKU) and UNIVERSITAS in cooperation with UNIS Vienna.