Events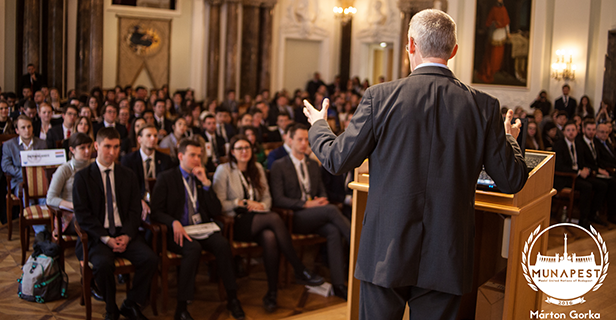 Students focus on Africa at 2 nd Model United Nations of Budapest
BUDAPEST, 5 April (UN Information Service) - Almost 200 university students from 22 countries took part in the second annual Model United Nations of Budapest (MUNAPEST) that took place from 22 to 26 March 2016, and they put the focus firmly on Africa. The five-day long event in the Hungarian capital was organized by the International Diplomatic Students Association and hosted by the Eötvös Loránd University, the Institute for Foreign Affairs and Trade and the General Assembly of Budapest.
The Director of the United Nations Information Service (UNIS) in Vienna Martin Nesirky spoke after the welcome speeches presented by the President of the General Assembly of MUNAPESTAntal Száva and by the Secretary-General of MUNAPEST Gábor Rácz. Referring to the main topic of MUNAPEST 2016 "Africa - Increasing development through tackling conflicts", Nesirky praised participants for choosing to focus on the African continent because that may have been somewhat underrepresented in the Model UN community. Nesirky underscored the topic's importance by mentioning that UN Secretary-General Ban Ki-moon travelled frequently to Africa throughout his two terms as Secretary-General and added, "So, you are in tune with the Secretary-General's thinking and priorities."
In his speech  Nesirky also mentioned  it was significant that MUNAPEST addressed the lack of clean drinking water in conflict zones, not least because that very day, 22 March, was World Water Day. Furthermore, goal number six of the 17 Sustainable Development Goals addresses the necessity for clean drinking water that means life and jobs, said Nesirky. He also noted MUNAPEST had placed a strong emphasis on interconnectivity, a system in which committees must work together to achieve their aims: "Communication across committees is vital," he said. Afterwards the Secretary-General of the United Nations Association of Hungary Ervin Gömbös,  highlighted the 70 th anniversary of the World Federation of United Nations Associations this year and stressed the importance of Model UN conferences around the world.
The official programme of MUNAPEST included a Diplomats' soirée where delegates had the opportunity to chat with ambassadors, attachés and representatives informally. The consultant  of UNIS Vienna in Hungary, Judit Vadlövő, was also  present  and  gave a short opening speech.
As Africa was the main theme of MUNAPEST 2016 several related topics were the subject of negotiations such as the Libyan civil war and countering ISIL (Da'esh) in North Africa; reforming the African Standby Force; threats to peace and security caused by Boko Haram and Al Shabab, ISIL (Da'esh) in Libya; responding to human rights violations with special emphasis on religious rights in conflict zones; tackling the refugee crisis caused by armed conflicts in North Africa; addressing the lack of access to clean drinking water in conflict zones; treaty on the non-proliferation of arms to non-state entities; and financing infrastructure development in post-conflict zones.