Events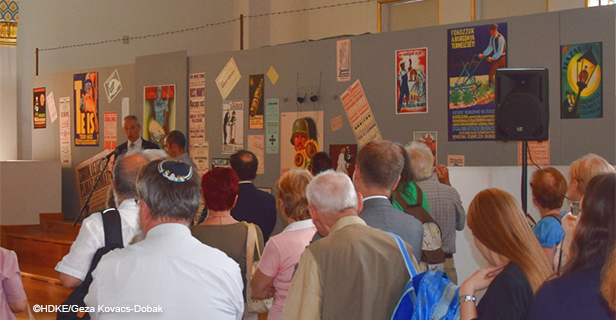 The "State of Deception: The Power of Nazi Propaganda" - Holocaust poster exhibition goes on display in Hungary
BUDAPEST, 26 June (UN Information Service) - Almost 100 visitors saw the Holocaust poster exhibition on the first day of the exhibition opening on 19 June in the Hungarian capital, Budapest. Hungary became the 35 th country to show the Holocaust poster exhibition "State of Deception: The Power of Nazi Propaganda" which was first displayed in Washington D.C., the United States. On his remarks at the opening, Director of the United Nations Information Service (UNIS) in Vienna Martin Nesirky, stressed the importance to "remain vigilant and take a stand against hatred".
Prior to the opening of the exhibition there was an interesting panel discussion devoted to the theme: "The power of Nazi propaganda". The panellists talked about the role of propaganda and the tools used as well as the similarity of Nazi propaganda to the propaganda in other countries like Hungary and Romania at that time. A separate but complementary exhibition on the role of propaganda in neighbouring countries was also opened which shows similar historical Hungarian posters and slogans which were spread on the streets by the Hungarian far-right parties to strengthen their power.
Taking part in the discussion were Director of the United States Holocaust Memorial Museum's Centre for Advanced Holocaust Studies, Paul Shapiro, Holocaust Memorial Centre historian Attila Jakab, and the Chair of the Board of Trustees of the Holocaust Public Foundation in Hungary, Professor Andor Grósz, who gave some welcome remarks. The discussion was moderated by historian Linda Németh, also from the Holocaust Memorial Centre.
The opening ceremony of the exhibition took place in the Páva street Synagogue, which is one of the buildings of the Holocaust Memorial Centre, where the exhibition will be on display from 19 June until October 2017 before it will start a tour of the country.
Bringing the exhibition to Budapest was organized by the Holocaust Memorial Centre and UNIS Vienna in cooperation with the Holocaust and the United Nations Outreach Programme and the United States Holocaust Memorial Museum.