Events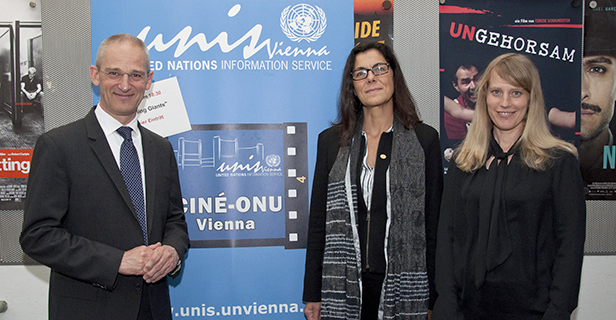 The battle for freedom of expression - Ciné-ONU Vienna Film Screening of "Tickling Giants"
VIENNA, 8 May 2017 - To mark this year's World Press Freedom Day (3 May) UNIS Vienna's monthly film series Ciné-ONU Vienna screened the documentary "Tickling Giants", in partnership with this  human world (THW) Film Festival and Topkino.
"Tickling Giants" by US film director Sara Taksler is about "Al Bernameg", the first political satire show in Egypt created by Dr. Bassem Youssef, the so-called "Egyptian Jon Stewart". Bassem, a former heart surgeon, initiated the show following the Arab Spring to comment on hypocrisy in media, politics, and religion. With over 30 million weekly viewers, the show became as controversial as it was popular and tested the limits of press freedom.
The screening, attended by more than 100 people, was followed by a panel discussion with Barbara Trionfi, Executive Director of the International Press Institute (IPI), and Anna Lundbladh, Senior Advisor to the OSCE Representative on Freedom of the Media (OSCE RFoM). The lively debate was moderated by the Director of the United Nations Information Service (UNIS) Vienna, Martin Nesirky.
Both speakers emphasized the importance of promoting press freedom and combatting the violations on freedom of the media. Trionfi explained the IPI's role in helping journalists in countries like Egypt and how important it is to give them a voice on foreign media to be able to express themselves. Lundbladh pointed out that many of the topics represented in the film, such as the safety of media workers, are challenges the OSCE faces trying to keep the media free. It is therefore of great importance to keep raising awareness of press freedom.