Events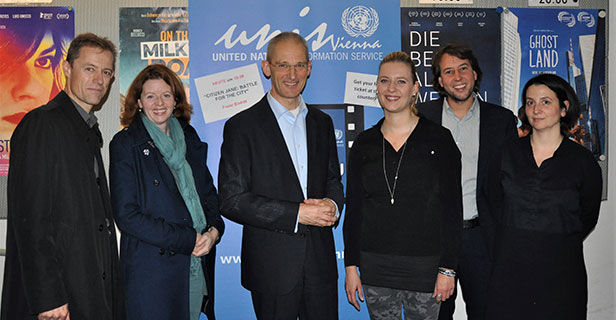 The Death and Life of Great American Cities: Ciné-ONU Vienna Film Screening of 'Citizen Jane: Battle for the City'
VIENNA, 6 November 2017 - What happens when engaged citizens stand up for their cities? A film focussing on the visionary activist and writer, Jane Jacobs, who fought to preserve urban communities was shown at this month's Ciné-ONU in Vienna.
In recognition of World Cities Day (31 October) with the 2017 theme 'Innovative Governance, Open Cities', the film "Citizen Jane" was shown in cooperation with the UN-Habitat Office for Europe and European Institutions, this human world (THW) Film Festival and Topkino.
Director Matt Tyrnauer vividly brings to life Jacobs' 1960s showdown with ruthless construction kingpin Robert Moses over his plan to raze lower Manhattan to make way for a highway, a dramatic struggle over the very soul of the neighbourhood.
The well-attended screening, was followed by a panel discussion with Karoline Mayer, Curator and Event Organizer, Architekturzentrum Vienna; Tobias Kettner, Outreach and Liaison Officer, UN-Habitat Regional Office, Brussels; Thomas Madreiter, Director of Planning, City of Vienna and Marie Grüner, Deputy General Secretary, Urban Forum - Egon Matzner Institute for Stadtforschung, moderated by the Director of the United Nations Information Service (UNIS) Vienna, Martin Nesirky.   
All the panellists agreed that the film was very impressive and that the battle Jane Jacobs fought for her city is a great example of what is possible when everyone comes together to fight for a common goal. Tobias Kettner from UN-Habitat said that it is fascinating 'how up-to-date the movie is'. He said urbanization will continue as more people move to the cities, but it needs to be carried out in a way that meets the needs of the people living there. Thomas Madreiter said he was inspired to take up his studies in urban planning in the late 1980s because of reading Jane Jacobs' book. "You may call it romantic or idealistic," he said.
Before the main film, a short film produced by Georg Steinböck in collaboration with UNIS Vienna was shown, which explores how Vienna is coping with the challenges and demands of being a growing city, and how it will be implementing the New Urban Agenda which was adopted by Governments at the UN Habitat III (Housing and Sustainable Urban Development) conference, held in Quito, Ecuador, in October 2016. 
Concluding the discussion,  Martin Nesirky, Director of UNIS, noted that we can be happy to live and work in Vienna and that some cities would be happy to have the challenges such as Vienna has.