Events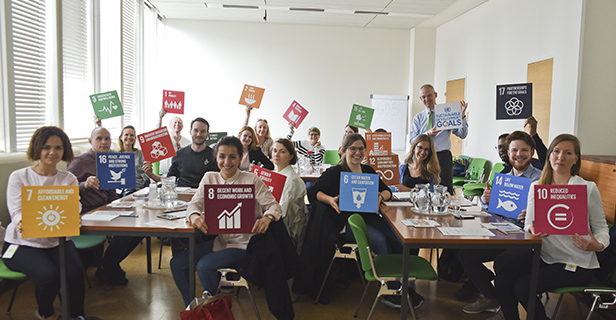 "Teaching the UN and Sustainable Development" - a workshop for English teachers
VIENNA, 25 + 27 April 2017 - Seventeen English teachers from new middle schools, technical schools, and high schools in Vienna took part in a workshop on "Teaching the United Nations and the Sustainable Development Goals" on 25 and 27 April 2017.
The aim of the workshop was to provide information on the United Nations and relevant topics for English teachers, to share new ideas on how sustainable development and the work of the United Nations can be addressed during English lessons and to present teaching material and special services in English for teachers and school classes.
During the first part of the workshop on 25 April 2017, the participants had a guided tour of the Vienna International Centre (VIC), followed by an introduction to the UN and the priorities of the new UN Secretary-General António Guterres by UNIS Director Martin Nesirky.
The teachers also found out about what the United Nations Visitors Service can offer school classes from the Chief of Visitors Service, Johanna Kleinert. They were informed how to visit the VIC with their students and which different tour options are available.
Marie-Claire Sowinetz from the Office of the United Nations High Commissioner for Refugees (UNHCR) in Austria then gave a presentation about the work of UNHCR and the current situation of refugees in Europe. She also introduced available teaching material, providing the teachers with background information and good tips on how to deal with this topic in schools.
During the second part of the workshop on 27 April 2017, held at the premises University College of Teacher Education in Vienna (PH Wien), Irene Höglinger-Neiva and Agata Wozniak from UNIS Vienna presented a wide range of teaching resources for each of the 17 Sustainable Development Goals, offered by UNIS Vienna and other UN organizations. The teachers learnt more about the teaching tool on the Sustainable Development Goals "The World's Largest Lesson", developed by the United Nations Children's Fund (UNICEF) and various other resources that can easily be used in the classroom to engage students of different ages with the subject matter.
The response from the teachers at the workshop was overwhelmingly positive: "I was really impressed by the amount of information and by the quality of the workshop and I will definitely use the teaching material," said Andreas Chvatal, teacher at the new middle school "Am Schöpfwerk" in Vienna.
The workshop was organized by the United Nations Information Service (UNIS) Vienna, in cooperation with the University College of Teacher Education in Vienna (PH Wien) and the UNHCR Office in Austria.