Events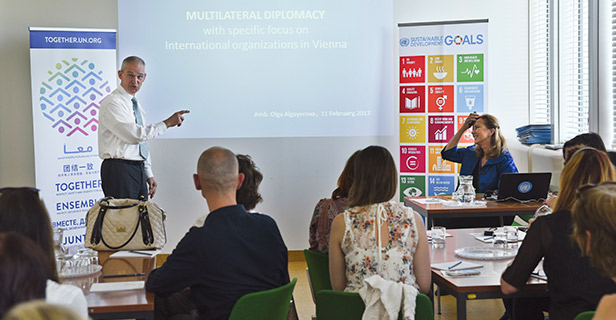 Teaching Sustainable Development: Slovak Teachers' Workshop at the UN in Vienna
"Together with the students we can work on what to do to help implement the SDG Goals and we can use the information and the material provided by this workshop practically in our lessons for finding ways to solve the problems through interactive discussions and games."
Ľubica Bošanská, Participant of the UNIS Teachers Workshop
Fourteen school teachers from all over Slovakia attended a workshop on "Teaching the United Nations and the Sustainable Development Goals" on 19 May 2017. The workshop gave the participants an overview of the work and priorities of the United Nations, especially the Sustainable Development Goals (SDGs) and how to bring these topics into their classrooms. It was organized by the United Nations Information Service (UNIS) Vienna in cooperation with the State Pedagogical Institute Bratislava.
The participants started off with a guided tour of the VIC and were welcomed to the UN headquarters in Vienna by Ambassador Olga Algayerova, Permanent Representative of Slovakia to the United Nations (Vienna), and UNIS Vienna Director, Martin Nesirky, who also spoke to the teachers about the challenges facing the UN in 2017.
The second part was on the Sustainable Development Goals which was much appreciated by the teachers: "The SDG tour was highly interesting and I think it would be even more interesting for my students," said one of the teachers.
Afterwards Irene Höglinger-Neiva and Agata Wozniak from UNIS Vienna presented a wide range of teaching resources, offered by UNIS Vienna and other UN organizations. The teaching tools are available online and can easily be used by teachers for a lesson on the SDGs to help children understand the importance of sustainable development.
The workshop programme also provided an introduction to the offers of the United Nations Visitors Service for school classes by Johanna Kleinert, the Chief of the UNIS Visitors Service. In this session the teachers found out how to visit the VIC with their students and which different options are available, such as the Sustainable Development Tour or the Human Rights Tour.
The participants were very happy about the variety of resources and hands-on teaching material that had been presented. "I can't wait to incorporate them into my lessons," said another teacher. Right after the workshop many of the participants said they would plan a visit to the United Nations Office in Vienna with their students including taking the Sustainable Development Tour.