Events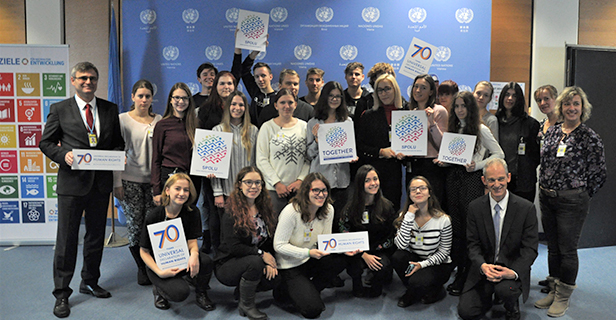 "Together - The future is ours to see" - an event for the Slovak winners of the Youth Short Film Competition 2017
VIENNA, 1 December 2017 - Twenty-four students from the Gymnasium Golianova in Nitra, Slovakia, came to the Vienna International Centre (VIC) to present their film "Together for a better future" that won this year's Youth Short Film Competition on Human Rights. The young film-makers met Permanent Representative of Slovakia to the United Nations (Vienna) Ambassador Peter Mišík, and UNIS Vienna Director Martin Nesirky who both congratulated the students on their success and the creativity shown in making the film. While they were at the UN Headquarters in Vienna, the guests from Slovakia also went on a guided tour of the VIC.
The theme of this year's competition was "The future is ours to see: Together - for a better future", and students aged 10 to 20 years old from Austria, Slovenia, Hungary and Slovakia were invited to produce a short film inspired by the articles of the Universal Declaration of Human Rights.
The Short Film Competition 2017 was organized by the International Film Festival on Human Rights this human world (thw) and held the under the auspices of the United Nations Information Service (UNIS) Vienna and the United Nations High Commissioner for Refugees (UNHCR) in Austria in support of the UN-system wide Together campaign.
The aim of the competition is to bring human rights and the Universal Declaration of Human Rights closer to young people, giving students an opportunity for critical reflection on these issues and offering a platform for young committed filmmakers to present their work.
The winning short film was also shown at the official film festival opening on 30 November 2017 at the Viennese cinema Gartenbaukino with more than 800 people attending, including the young filmmakers from Slovakia. "It was a big moment for all of us," said Eva Dobiáš, one of the teachers who accompanied her students to Vienna and supported them to develop the winning short film during the art lessons. Pride and enthusiasm was in the air, when the students and their teachers left the Vienna International Centre after two exciting days in Vienna.