Events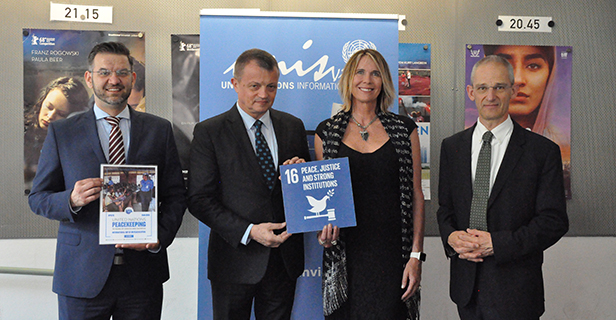 Until there is Peace: A Journey towards Peace
To mark International Day of United Nations Peacekeepers and 70 years of UN peacekeeping, the United Nations offices at Vienna, Geneva and Brussels showed, as part of their Ciné-ONU series, the documentary film "Until there is Peace".
The film follows a group of peacekeepers in the UN Force Intervention Brigade, which is a military formation within the United Nations Organization Stabilization Mission in the Democratic Republic of the Congo (MONUSCO). The story highlights the everyday struggles faced by peacekeepers in the largest UN Peacekeeping mission in the world during and after deployment.
 "One thing that really impressed me was how much the peacekeepers care. They really care about the Congolese people, everyone in their personal way - they wanted to help and understand," said film director Melonie Kastman at the Ciné-ONU screening in Vienna on 28 May.
The screening in Vienna was followed by a discussion with a panel consisting of the film director and two experts: Jean Baillaud, former Deputy Force Commander at MONUSCO; and Simon Buettner, Legal Officer at the Office of the Chief of Staff, United Nations Multidimensional Integrated Stabilization Mission in the Central African Republic (currently on temporary assignment with the Division for Management at UNOV/UNODC). The debate, which included questions and comments from the audience, was moderated by UNIS Director Martin Nesirky.
As an expert and as one of the main protagonists in the film, Mr. Baillaud stressed the complexity of military missions such as the one in the Democratic Republic of the Congo and highlighted the importance of providing support onsite and in a timely manner: "We cannot simplify the complexity of the situation. It can sometimes take generations. The more we wait, the problem will develop further".
Having spent time in Central African conflict zones, Mr. Buettner was very impressed with Ms. Kastman's rendition of the reality that UN peacekeepers face in the African region. Also stressing the importance of understanding the complexity of the situation on the ground, Mr. Buettner said that "If you come to a foreign country to help, you have to know what the problem is, you have to try to reach out to the people and to understand, in order to try to help".
The Vienna screening was organized by the United Nations Information Service (UNIS) Vienna in cooperation with this human world Filmfestival and Topkino.