Events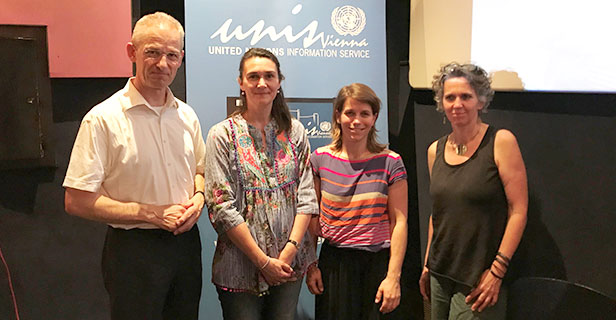 "Refugee" - The human cost of bureaucratic failure
Established in 2000 to raise awareness of the plight of refugees around the world, 20 June is celebrated annually as World Refugee Day. To mark this year's edition, the United Nations Information Service (UNIS) Vienna, in cooperation with the office of the United Nations Refugee Agency (UNHCR) in Austria and this human world film festival, hosted a screening of the acclaimed documentary "Refugee", by the photojournalist and director Alexander J Farrell, on 17 June at Topkino Vienna.
The film tells the story of a Syrian family that was separated by the war and ensuing refugee crisis. Due to her husband's sickness and the family's financial constraints, Raf'aa is forced to make the long, difficult journey to Germany on her own, with the hope that her refugee status will eventually allow the family to reunite in Germany. As their hometown comes under control of ISIS, however, her two sons and their father are forced to make the journey nonetheless. They end up stranded under horrible conditions in a refugee camp, stuck in limbo due to bureaucratic issues.
After the screening, the traditional panel discussion followed. The invited speakers included Marie-Claire Sowinetz from UNHCR Austria, Jasmina Haracic from the Red Cross Austria and Sabine Kampmueller from AFYA, an NGO promoting intercultural health. Sowinetz kicked-off the panel discussion by reflecting on the film: "Knowing that something like this is happening in the EU is pretty tough," she said. She added that although the primary burden remains with states, UNHCR is trying to assist on the ground where it can. According to Haracic, the Red Cross aims to mitigate the crisis by "restoring family links", referring to the services offered by her organization to aid with family reunification. Kampmueller detailed how the "burden of memories" is a major challenge for refugees, especially as "mental health is staying sane in an insane world".
The post-screening discussion highlighted that the refugee issue remains one of urgency. An audience member reminded the attendees of the ongoing crisis in Sudan, while another asked how prepared we are for the next crisis. Sowinetz said that "as long as there is war, we will have refugees," adding that what organizations like UNHCR must do is push governments to come up with strategies for tackling the challenges. Kampmueller added that the "drowning has not stopped", but also pointed at efforts that have been made so far, such as the UN Global Compact for Migration. In Haracic's view, the key takeaway from the response to the 2015 crisis is that civil society stepped up and rose to the challenge.