Events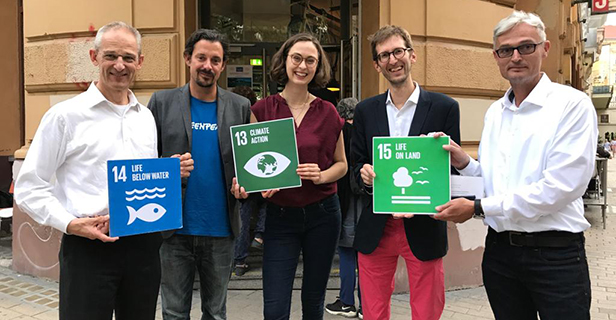 Ciné ONU Vienna film screening of "Anote's Ark"
Sitting in a cinema in Vienna, watching the dramatic scenes of Kiribati where climate change has led to typhoons, floods and a call for help, one question filled the room: are we just spectators of these scenes? Or are we taking action to stop these things from happening?
The islands of Kiribati (pronounced «Kiribas») are under threat. The movie "Anote's Ark" documents the struggles of the people of the small island nation in the middle of the Pacific and the former President Anote Tong. Historically, the islands were not prone to any natural disasters like tsunamis or storms. But through the awakening of climate change and increasing catastrophes, this paradise is now threatened by rising sea levels. Set against the backdrop of international climate and human rights negotiations, President Anote Tong's struggle to save his nation is intertwined with the extraordinary fate of Tiemeri, a young mother of six, who fights to move her family to New Zealand. At stake is the survival of her family, the Kiribati people, and 4,000 years of Kiribati culture.
Prior to the UN Climate Action Summit 2019 on 23 September in New York, the Ciné ONU Vienna screening, hosted by the United Nations Information Service Vienna (UNIS) in cooperation with the Permanent Mission of Switzerland to the United Nations (Vienna), aimed to raise awareness about the global issue of climate change.
The film was followed by a panel discussion featuring Manfred Kohlbach, Senior Expert at the Austrian Federal Ministry of Sustainability and Tourism, Adam Pawloff, Climate and Energy Expert at Greenpeace Austria, Harald Egerer, Head of the UN Environment Vienna Office and Angelika Lauber, Coordinator at Fridays for Future Vienna.
"I went to Kiribati with the former UN Secretary General Ban Ki-moon in 2011, and something I will never forget is that when we entered the hotel room, we didn't find chocolate on our pillows as you might expect. We found life jackets." With these words, Martin Nesirky, moderator of the discussion and Director of UNIS Vienna, opened the discussion. All panellists agreed that everyone, even those in a landlocked country like Austria, must act to combat global warming and its outcomes such as rising sea levels.
But what can we do? Angelika Lauber took a strong stand and asked the government to do more nationally and internationally. She was supported by Adam Pawloff who called for global collaboration and participation by everyone. "We also have to understand our responsibility as citizens and the leverage that we can have with our vote," Harald Egerer reminded the audience. Manfred Kohlbach argued that Austria is showing strong commitments in exactly these international efforts such as the Green Climate Fund (GCF). The fund is investing in low-emission and climate-resilient development.
The film screening of Anote's Ark underlined the threatening situation facing the Pacific Islands. And even though we were watching it in a landlocked country, those present could greatly sympathize with the people whose stories were told. Action needs to follow.