Events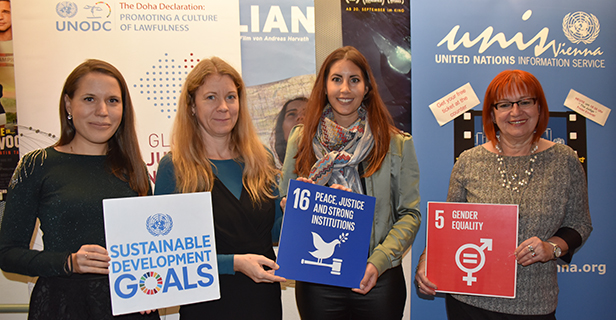 "The Judge" - Ciné ONU Vienna screening to raise awareness about gender equality in the judiciary
The fight for justice for women and gender equality in the judiciary were at the centre of October's Ciné-ONU Vienna film screening at the Vienna arthouse cinema Topkino on 28 October.
The film introduces the audience to the world of Kholoud Al-Faqih, the first woman judge appointed to a Shari'a Court in the Middle East, and offered a rare insight into Shari'a law.  "The Judge" was screened by United Nations Information Service (UNIS) Vienna, in cooperation with the Doha Declaration Global Programme of the UN Office on Drugs and Crime (UNODC), the International Association of Women Judges, and this human world film festival.
Shari'a courts which deal with family cases and especially marriage matters, had historically banned women from taking on the position of judges in court trials. It was in 2009, when Kholoud Al-Faqih dared to challenge that history and became the first female judge to be appointed to a Shari'a court in Ramallah, State of Palestine. Through her brave fight for gender equality in the judiciary, Judge Al-Faqih has defied convention and paved the way for other women to become judges in Shari'a courts.  Her commitment to equality was also reflected when deciding family court cases on issues that disproportionately affect the lives of women, such as domestic violence.
After the screening, film director Erika Cohn, Judge and President of the Association of Women Judges of Bosnia and Herzegovina and Member of the International Association of Women Judges (IAWJ) Adisa Zahiragic and Crime Prevention and Criminal Justice Officer at UNODC Tatiana Balisova joined a discussion on gender-related issues in the judiciary, moderated by Sonja Wintersberger, Deputy to the Director of UNIS Vienna. Judge Zahiragic argued that gender bias, gender stereotypes, and discrimination are still omnipresent and exist everywhere. At the same time, there is a lack of awareness of gender-related issues or gender justice. Director Erika Cohn emphasised that the story of judge Al-Faqih is not only about the State of Palestine, but also a message for the rest of the world. Also, Tatjana Balisova agreed that under the judicial system every individual should have the same rights and be treated equally regardless of gender.
Judge Al-Faqih's story and her fight for justice inspired the whole audience. After watching the film, one member of the audience said: "I am feeling very happy about the progress that has been made." Nevertheless, all panellists agreed that further awareness raising for gender equality is necessary to overcome discrimination and bias related to gender.