Karl Schafranek
9 June 1890 - 1944 (Belzec, Poland)
Jewish tradesman from Etsdorf am Kamp (Lower Austria)
In 1940, Karl Schafranek was sent to the Bründlgschütt labour camp, near Eisenerz, Styria There, he drew these postcards, writing to his daughter Lily (born 1928) on the reverse side. The postcards were smuggled out of the camp and reached his family in Vienna. Mr. Schafranek together with his wife and daughter were deported in 1941 to the Modliborzyce ghetto, a village in the district of Lublin, Poland, where he had to work for a farmer. After the liquidation of the ghetto in October 1942, the family was transported to the Belzec death camp, where they were murdered in 1944.
After the war, the postcards came into the property of his sister, Ida Schafranek, who had left Austria in 1938 for the United Kingdom. They were later inherited by his grandnephew, Dr. Martin Komjati, who made the postcards available for public display for the first time on the occasion of the third International Day of Commemoration in Memory of the Victims of the Holocaust at the Vienna International Centre in January 2008.
The series consists of 4 postcards of the family property in Etsdorf and 17 postcards depicting life at the Bründlgschütt labour camp, including descriptions and comments by the author and various other prisoners.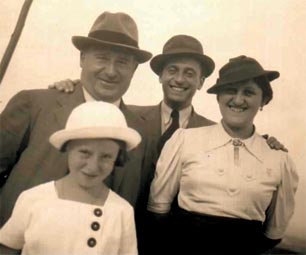 Karl Schafranek (left) with his daughter Lily (front), his niece Erzsi (Elisabeth) and his nephew Franz (father of Dr. Martin Komjati)
Picture taken around 1935