United Nations in General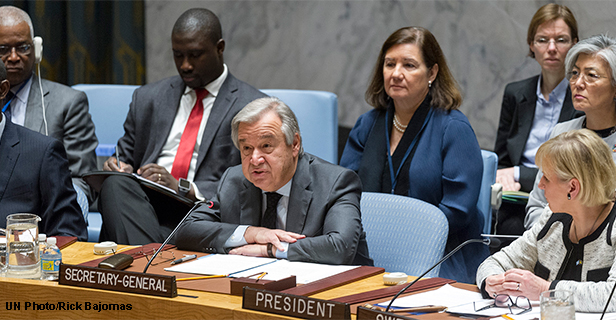 António Guterres secures second term as UN Secretary-General & calls for new era of 'solidarity and equality'
António Guterres has been re-appointed as UN Secretary-General for a second term, pledging as his priority, to continue helping the world chart a course out of the COVID-19 pandemic. 
Taking the oath of office in the General Assembly Hall, Mr. Guterres said he was aware of the immense responsibilities bestowed on him at this critical moment in history.
"We are writing our own history with the choices we make right now. It can go either way: breakdown and perpetual crisis or breakthrough and prospect of a greener, safer and better future for all. There are reasons to be hopeful," he told ambassadors.
He was nominated by his homeland, Portugal, and appointed by acclamation by the General Assembly, following prior endorsement by the UN Security Council, for a second term that runs from January 2022 to December 2026.
He said it was crucial that the way out of the pandemic should occur on a much more equitable basis, going forward: "Our greatest challenge - which is at the same time our greatest opportunity - is to use this crisis to turn the tide, pivot towards a world that learns lessons, promotes a just, green and sustainable recovery and shows the way via increased and effective international cooperation to address global issues."
---
The ninth United Nations Secretary-General, António Guterres (Vision Statement) took office on 1 January 2017.
The Secretary-General is a symbol of the United Nations ideals and a spokesperson for the interests of the world's peoples, in particular the poor and vulnerable. They can be described best as equal parts diplomat and advocate, civil servant and Chief Executive Officer.
The role of the Secretary-General
The UN Charter describes the Secretary-General as "chief administrative officer" of the Organization, who also performs "such other functions as are entrusted" to him or her by the Security Council, General Assembly, Economic and Social Council and other United Nations organs.
The Charter also empowers the Secretary-General to "bring to the attention of the Security Council any matter, which in their opinion may threaten the maintenance of international peace and security". These guidelines both define the powers of the office and grant it considerable scope for action.
The Secretary-General would fail if they did not take careful account of the concerns of Member States, but they must also uphold the values and moral authority of the United Nations, and speak and act for peace, even at the risk, from time to time, of challenging or disagreeing with those same Member States.
That creative tension accompanies the Secretary-General through day-to-day work that includes attendance at sessions of United Nations bodies; consultations with world leaders, government officials, and others; and worldwide travel intended to keep them in touch with the peoples of the Organization's Member States and informed about the vast array of topics of international concern that are on the Organization's agenda. Each year, the Secretary-General issues a report on the work of the United Nations that appraises its activities and outlines future priorities.
Secretary-General Selection Process
The Secretary-General is appointed by the General Assembly, on the recommendation of the Security Council, as stated in Article 97 of the UN Charter.
Although there is technically no limit to the number of five-year terms a Secretary-General may serve, none so far has held office for more than two terms.
History of Secretaries-General
The ninth Secretary-General follows in the steps of:
Ban Ki-moon (Republic of Korea), who held office from January 2007 to December 2016;
Kofi A. Annan (Ghana), who held office from January 1997 to December 2006;
Boutros Boutros-Ghali (Egypt), who held office from January 1992 to December 1996;
Javier Pérez de Cuéllar (Peru), who served from January 1982 to December 1991;
Kurt Waldheim (Austria), who held office from January 1972 to December 1981;
U Thant (Burma, now Myanmar), who served from November 1961, when he was appointed acting Secretary-General (he was formally appointed Secretary-General in November 1962) to December 1971;
Dag Hammarskjöld (Sweden), who served from April 1953 until his death in a plane crash in Africa in September 1961; and
Trygve Lie (Norway), who held office from February 1946 to his resignation in November 1952.