Sustainable Development Goals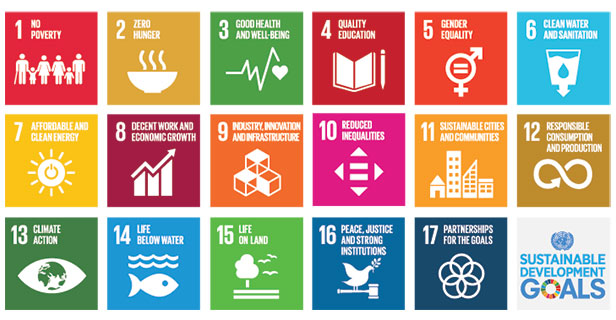 The making of 2030 Agenda for Sustainable Development
Background
In 2000, world leaders set out a series of time-bound targets - with a deadline of 2015 - that have become known as the Millennium Development Goals (MDGs). Thanks to millions of people taking action and a massive global effort, we have already made real progress. The number of people living in poverty has fallen to less than half of its 1990 level. Over two billion people have gained access to better drinking water.
Yet, 1.2 billion people still live in extreme poverty. Every four seconds a child dies from preventable causes and over 800 million, particularly women and young people, suffer from chronic hunger. Meanwhile the world's population is set to rise to 9.5 billion by 2050 and the food system is at breaking point.
Climate change threatens to destroy the lives of millions more and undo the progress reached so far. Inequality is growing everywhere and human rights are being undermined in the world's most fragile and conflict affected countries while the world economy continues to falter.
A debate on what should follow the MDGs when they expire in 2015 was necessary.
Process
The Rio+20 Conference on Sustainable Development in 2012 initiated an inclusive intergovernmental process to prepare a set of sustainable development goals (SDGs). An Open Working Group, consisting of 30 UN member country representatives presented a proposal for the SDGs in September 2014. The proposal already contained a set of 17 goals.
UN Secretary-General Ban Ki-moon established the UN System Task Team on the Post-2015 UN Development Agenda. Chaired by the Department of Economic and Social Affairs (DESA) and the United Nations Development Programme (UNDP), the team brings together more than 60 UN agencies and international organizations.
In its first report to the Secretary-General, Realizing the Future We Want for All, the Task Team outlined a vision for the post-2015 development agenda and suggests four key dimensions which can help to guide goal setting. These are: (1) inclusive social development; (2) inclusive economic development; (3) environmental sustainability; and (4) peace and security. The Task Team also looked at how different themes could potentially be reflected in a new framework.
In July 2012, the Secretary-General launched his High-level Panel of Eminent Persons to provide guidance and recommendations on the post-2015 development agenda. The report of the Panel published in May 2013 concluded that the post-2015 agenda needs to focus on: leaving nobody behind; putting sustainable development at the core; transforming economies for jobs and inclusive growth; building peace and effective, open and accountable institutions for all; and forging a new global partnership;
These processes were complemented by national consultations in more than 60 countries and a set of eleven thematic consultations organized by the United Nations Development Group. The eleven thematic consultations were: conflict and fragility; education; environmental sustainability; governance; growth and employment; health; hunger, food and nutrition; inequalities; population dynamics; energy; and water. Regional consultations were organized by the Regional Economic Commissions.
An Intergovernmental Committee of Experts on Sustainable Development Financing published options to finance the future development goals.
In order to ensure coherence across the different work streams an informal senior coordination group of four Assistant Secretaries-General (ASGs) has been put in place.
Over the course of the year 2014, several General Assembly events were convened by the President of the General Assembly under the theme "The Post-2015 Development Agenda - Setting the Stage".
A final report by the Secretary-General was presented in January 2015. The report blends key recommendations that will see 2015 as truly a time for global action.
Intergovernmental negotiations started at the beginning of the 69th session of the United Nations General Assembly.
Negotiations ended in September 2015 when the new development framework was adopted at the UN General Assembly.
Major differences between the MDGs and SDGs include how they were developed, what they include and who they address.