Events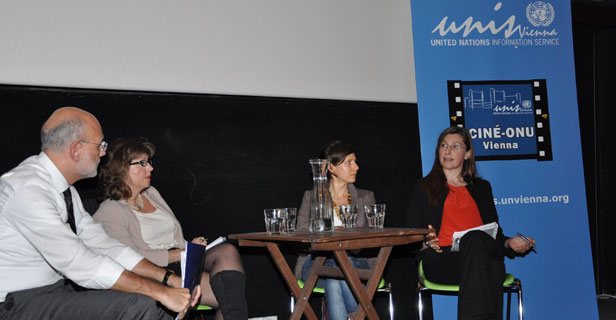 Ciné ONU Vienna film screening of "Sweet Dreams"
UNIS Vienna's regular film screening project -- Ciné ONU Vienna -- marked International Women's Day with the showing of the documentary "Sweet Dreams" by Rob and Lisa Fruchtman. The film was also timed to pay a tribute to the victims of the Rwandan Genocide that took place in 1994 and is commemorated by the international community on April 7 - the date established by the UN as a Day of Remembrance.
The screening, organized in cooperation with Topkino and this human world film festival, was followed by a panel discussion with Maddalena Campioni, co-editor of the book "Rwanda Fast Forward: social, economic, military and reconciliation prospects", Susanne Brezina, expert in post-conflict recovery and peace-building who spent several years in Rwanda, and Barbara Selden from Austrian Ministry for Women and Civil Service, with a focus on socio-economic equality and gender issues. The discussion was moderated by UNIS Vienna Director Janos Tisovszky.
The film "Sweet Dreams" follows the remarkable group of Rwandan women as they emerge from the devastation of the genocide to create a new future for themselves by opening Rwanda's first and only ice cream shop named Inzozi Nziza (Sweet Dreams). The women which had a particular determination to overcome the past tensions within Rwandan society are certainly an outstanding example of self-devotion in the name of peace. This inspiring and true story certainly captivated the audience attending the event.
The invited experts gave valuable insights into the topic of post-conflict development, role of women in rebuilding societies, the complex challenges of reconciliation and the issue of combating violence against women in a broader context.
The tragic events in Rwanda served as the frame for exploring those issues. Susanne Brezina, who spent plenty of time in Rwanda, had numerous personal experiences to share which were particularly interesting for the audience. She made a point in stressing the tremendous progress achieved by Rwanda in the recent period, both economically and socially.
Maddalena Campioni shared her knowledge of other women-run projects in Rwanda involving the production and distribution of sanitary pads.
Barbara Selden, drew a more general lesson by pointing out that the utmost role of women in restoring the social ties within Rwandan society was caused by their commitment to local communities. The readiness of women to devote their potential to raising children, thus contributing to household prosperity was the essential part of any developmental process.
Questions and comments from the audience focused on areas such as the need for more academic research in order to prevent civil conflicts, the complexities of victims' rehabilitation, and the various ways and means to address local grievences and related to providing justice and forgiveness.