Events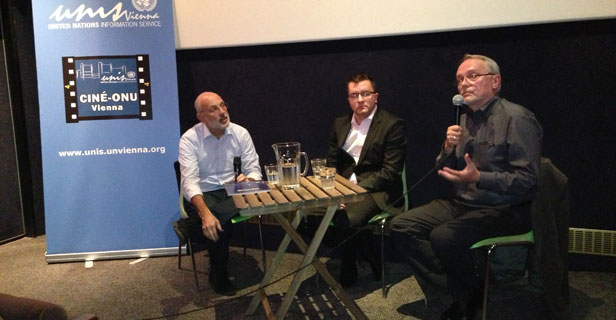 "PING PONG - Never Too Old For Gold"
On the occasion of International Day of Older Persons, which is celebrated every year on 1 October, the United Nations Information Service (UNIS) in Vienna in cooperation with this human world (THW) Film Festival and Topkino, screened the documentary "PING PONG - Never Too Old For Gold" by Hugh Hartford as part of its regular film screenings series CINE ONU Vienna.
The plot of the movie is catchy and amusing: pensioners from across the planet compete in the over-80s World Table Tennis Championships in Inner Mongolia. Eight players with a combined age of 703 years between them guide the viewers through the extraordinary world of veteran sports. Their outstanding characters and life stories immediately win the audience over with their kindness, humour and determination to win as well as their belief that age will not be the defining factor in their lives.  This is a funny and emotional film about people who might be old, but still want gold.  It challenges perceptions of what it is to grow old in a very creative manner and sensitively engages with the issues we all face in an ageing global population.
The subsequent panel discussion featured the former Head of the United Nations Ageing Unit Alexandre Sidorenko, the initiator of the intergenerational project "Simbioza" in Slovenia Žiga Vavpotič and UNIS Director Janos Tisovszky.
Mr. Sidorenko presented interesting facts and statics about different policies and initiatives engaging older people.  He emphasized that we have to learn to deal with this phenomenon in our quickly changing society because the percentage of older people is growing.  More international organizations are becoming engaged in solving this problem: last year (2012) was declared the year of Active Ageing and Solidarity between generations by the European Union.  "Adjustment is the key word for the policies on ageing," advised Mr. Sidorenko.
Mr.  Vavpotič presented the Slovenian project "Symbioza" which aims to raise intergenerational tolerance and to help young and older people work together.  It establishes a "symbiotic" relationship between them: the younger people teach the older ones how to use computers and information technologies and young people learn from the experience of older people.
As the movie "Ping Pong - Never Too Old for Gold" itself ended on an optimistic note, so did the discussion. Both speakers encouraged the audience to participate and initiate similar projects in their own countries as well as in international organizations. Such projects are a chance for older people in our societies to pass their professional and life experiences on as well as help them adapt in the age of Internet when being able to work with information technologies has an enormous impact of one's quality of life.