Events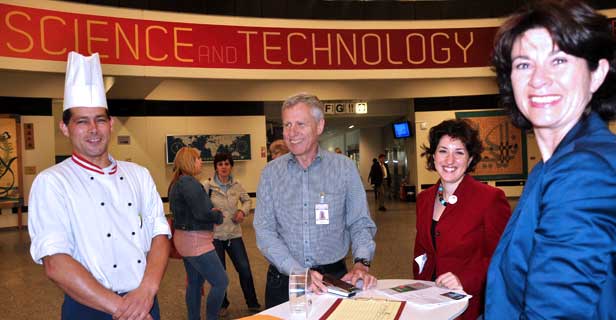 Would you throw 300 Euros into the rubbish bin?
Today pasta, tomorrow steak with potatoes - many people in industrialized countries, especially the younger ones, do not really care about the food rotting in their fridge. According to a recent study by the Food and Agriculture Organization (FAO) around one third of the worldwide food production gets either lost or wasted. Every year this amounts to 1.3 tonnes of edible food. In Austria every household throws away on average 300 Euros worth of food each year.
World Environment Day, celebrated every year on 5 June, is about raising awareness of the environmental issues. This year's theme was "Think.Eat.Save" which focused on the issue of food waste, with a campaign supported by the United Nations Environment Programme (UNEP) amongst others. The Austrian Ministry of Life simultaneously launched a campaign called "Lebensmittel sind kostbar", which has set itself the goal of achieving sustainable prevention and reduction of food waste in close cooperation with the industry, the consumers, communities and social institutions.
So to spread the word on how to tackle food waste, the United Nations Information Service (UNIS) Vienna teamed up with the local association Wiener Tafel and the Catering Service of the Vienna International Centre (VIC). Targeting VIC staff, UNIS Vienna set up an exhibition with infographics, short video clips and posters in the main building where most staff pass by on their way to lunch, reminding them of the budgetary and environmental consequences of throwing away food. The opening ceremony on 5 June was followed by the screening of the Ekotopfilm's "Fish's Finished", a documentary about the practices of the global fishing industry some of which have led to overfishing. Wiener Tafel , a well-respected association which dedicates itself to the transfer of food between surplus (i.e. restaurants or supermarkets) and demand (social welfare organizations) had an information stand where staff members could find out more abouttheir work and encouraging them to become volunteers with them.  "I enjoy working for the Wiener Tafel because it works smoothly and efficiently. Our daily delivery system with the five Wiener Tafel vans provide the perfect bridge between excess and deficit," says Sabine Unger-Schmied, Implementation Assistant at the International Atomic Energy Agency (IAEA) and volunteer for the Wiener Tafel. Sabine Unger-Schmied engaged colleagues passing by on the issue of food waste and persuaded around 20 people to sign up to donate some of their free time to helping with food transfers.
By bringing together the VIC Catering Service with a consultant from the Austrian Ecology Institute, plans are being made to improve the production of around 3,000 warm meals to make it more efficient, to reduce food waste and to keep energy consumption to a minimum. Executive Chief Richard Lier from the VIC Catering Service knows that there are many easy ways to minimize waste if you know what to do with the leftovers: "Freshly frozen products taste excellent. Fruit can be used to make smoothies or jams, vegetables can be transformed into creamy soups or sauces, cooked noodles made into soufflés." His advice to us all: "Be creative, save money and bon appetit!"