Events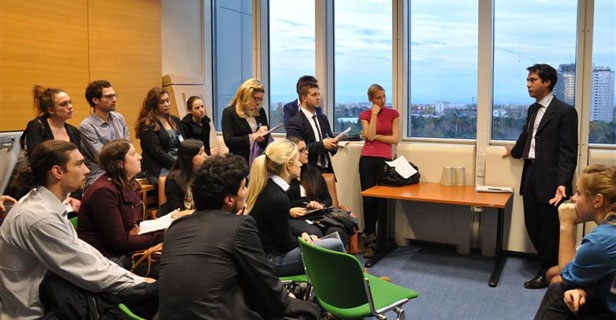 Over Two Hundred Law Students attended United Nations Career Workshop
More than 200 law students from the University of Vienna attended the career workshop "Working for the United Nations" on 7 November at the Vienna International Centre (VIC) organized annually by the United Nations Information Service (UNIS) in Vienna in cooperation with UNIPORT, the career service of the University of Vienna.
After his welcoming speech UNIS Director Janos Tisovszky told the students about the various possibilities for lawyers to work at the United Nations as well as showing them how to navigate through the United Nations Career Portal.  He also gave them detailed information about internship possibilities, the Young Professionals Programme (YPP) and the Junior Professionals Programme (JPO). Finally, he gave them valuable advice on how to prepare their resumes and cover letters when applying for a position in the United Nations.  After this five United Nations staff members with law degrees shared their career paths with the students: Christoph Pinter, the Head of Office of the United Nations High Commissioner for Refugees (UNHCR) in Austria, Monica Canafoglia, a Legal Officer at the International Trade Law Division of the United Nations Commission on International Trade Law (UNCITRAL), Matthias Jurek who is working with the United Nations Environment Programme in Vienna (UNEP)/Interim Secretariat of the Carpathian Convention), Polleak Ok Serei, a Crime Prevention and Criminal Justice Officer at the United Nations Office on Drug and Crime (UNODC)) and Marie Diederichs who is a  consultant with the United Nations Register of Damage (UNRoD)). Following their presentations there were small group discussions where they answered the students' questions.  "The career workshop was really informative and I especially liked the variety of career work paths which were presented," was one of the many positive comments from one of the students about the career workshop. 
The workshop is one of a series of events that UNIS organizes to inform young people about the career possibilities at the United Nations. For example UNIS has held various workshops and presentations at different universities in Austria, Hungary, Slovakia and Slovenia, participating in career fairs and the "Shadowing Programme", which gives students the chance to accompany a UN staff member for a day.