Events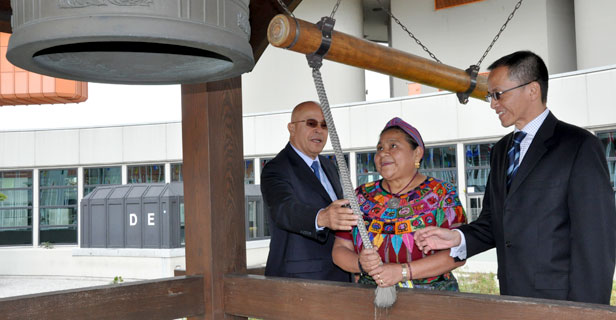 United Nations in Vienna Marks Peace Day with Visit by Nobel Peace Prize Winner Rigoberta Menchú
The International Day of Peace was the occasion for 1992 Nobel Peace Prize winner, Rigoberta Menchú to visit the Vienna International Centre (VIC) on 20 September 2013 and engage in conversations with a room packed with guests and staff at an event organised by the Universal Peace Federation (UFP), the Academic Council of the United Nations System (ACUNS) and Art of Reconciliation with the support of the United Nations Information Service (UNIS) in Vienna and the Embassy of Guatemala.
Rigoberta Menchú is an indigenous Guatemalan woman, who has dedicated her life to promoting and protecting human rights of indigenous peoples in Guatemala. In 1992 she received the Nobel Peace Prize and in 1998 the Prince of Asturias Award for her contributions to the society. She also serves as a UNESCO Goodwill Ambassador.  
Opening the event, UNIS Director Janos Tisovszky noted that International Day of Peace: "is a day of reflection on non-violence and a day to commemorate the ones, who lost their lives for non-violence […] it is also a day to reflect on what we should do in order to ensure that non-violence is spread beyond just one day in our everyday lives." The Ambassador of the Republic of Guatemala Antonio Roberto Castellanos Lopez in welcoming Mrs. Menchú  expressed his deep appreciation and respect for her work: "We, Guatemalan people, wish to have peace and this is only possible through national reconciliation. Rigoberta Menchú is a key person in order to reach these very prestigious objectives." Furthermore, the Irish musician Desmond Doyle presented the work of "Art of Reconciliation", which initiates and organises international art and cultural projects and events on the topic of reconciliation. 
In her speech Rigoberta Menchú stated that creating and ensuring world peace must be perceived as a common goal of all people and that everyone has a responsibility in the process of achieving this aim. She underlined the fact that peace needs action: "We must rebuild the notion of peace and, in doing so, we can even reinvent our methods of work. In order to do this, we need information and education, and, above all, it is important to know, who we are […] by defining who we are, we signify a dialog." Mrs. Menchú also expressed her appreciation for the work of the United Nations as "the most important entity to create order in the world" which has to play a key role in fulfilling the mission of achieving world peace. Before engaging in a lively conversation with participants, she ended her speech on an optimistic note: "We have achieved a lot and made changes possible […] and we have a wonderful prospect ahead of us if people chose to live in peace, which starts with the personal attitude of every one of us."
The event, moderated by the Austrian journalist, social anthropologist and documentary filmmaker Leo Gabriel, was attended by over 120 representatives from civil society, permanent missions and UN offices.
Mrs. Menchú concluded her visit to the Vienna International Centre with a ceremonious ringing of the  Peace Bell at the United Nations Plaza together with Dennis Thatchaichawalit - Director of Division for Management at the UNOV/UNODC, who delivered the message of UN Secretary-General Ban Ki-Moon on International Day of Peace and with Ambassador Castellanos Lopez. Mrs. Menchú rang the Peace Bell with the words: "In order to achieve plenitude of life, we need to apply the code of ethics: respect, thankfulness, reciprocity and unconditional love."
Further celebrations to mark International Day of Peace in Austria were organised by Children's International Summer Villages (CISV) in the framework of the global initiative Peace One Day with concerts, podium discussions and many other activities on Karlsplatz in Vienna on 21 September 2013. The event was opened by UNIS staff member Ms. Antonia Seilern presenting the work of the UN for the cause of achieving world peace.
The International Day of Peace is celebrated every year on 21 September all over the world. The UN General Assembly has designated the day as a day devoted to strengthening the ideals of peace, both within and among all nations and peoples. This year's theme of the International Day of Peace was "Education for Peace". The Secretary-General in his message strongly encouraged every person to reflect on the importance of education for ensuring and promoting tolerance and world peace and to remember the words of the National Youth Peace price winner and teenage peace activist Malala Yousafza: "One child, one teacher, one book and one pen can change the world."