Events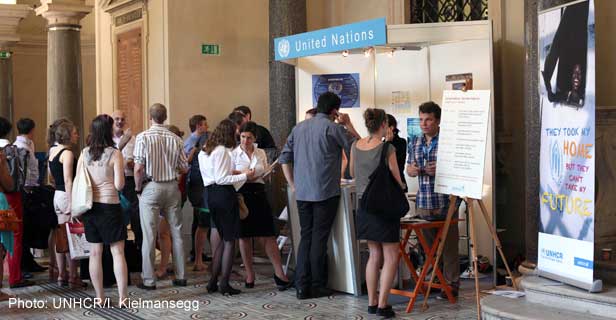 UN Stand Most Popular at Largest Austrian Student Career Fair
The "Working for the United Nations" stand proved to be one of the busiest and most popular among  the over 5,000 students who took part in this year's "UniSuccess" event - the largest of its kind career fair for university students hosted by the University of Vienna.
After the interest shown in UN careers during last year's similar event, the United Nations Information Service (UNIS) Vienna and - for the first time - eight Vienna-based organizations were present at this year's "UniSuccess"  with a stand for the full day on 20 June.
Despite the record breaking heat wave pushing temperatures close to 40 degrees, several hundred students visited the UN info stand to find out more about the different career paths and opportunities within the UN. In addition, UNIS Director Janos Tisovszky participated in a free flowing panel discussion on international careers and also held a focused UN career workshop attended by a packed lecture room with over 200 students - most of whom then took advantage of the UN stand to pursue their specific questions.
At the UN info stand, UN staff members, including Human Resources experts from the United Nations Office in Vienna (UNOV), United Nations Office on Drugs and Crime (UNODC), International Atomic Energy Agency (IAEA), United Nations Industrial Development Organization (UNIDO), United Nations Office for Outer Space Affairs (UNOOSA),   United Nations High Commissioner for Refugees (UNHCR), United Nations Office for Disarmament Affairs (UNODA) and the United Nations Information Service (UNIS) Vienna took turns to present detailed information about career opportunities, often talking about their own experiences and  career paths giving advice to visitors regarding job opportunities and specific application processes in the organization.   
In addition, brochures and handouts with facts and tips concerning various programmes and possibilities to work for the organization were readily available - these included details on, for instance, YPP (Young Professional Programme), internships, volunteer programmes, associate expert programmes and others.
In a panel discussion on the topic of challenges and benefits when working in an international environment, UNIS Director Janos Tisovszky emphasized that in today's dynamically globalizing world being able to work in a multicultural environment is crucial and although at times it may prove to be a challenge, it is also an interesting, exciting and rewarding experience. "The UN is a great place to work in and a great world to be a part of," he said. In response to the often asked question of what educational background was best for a UN career, he offered the simple advice: "Study what you really want to and what you are passionate about and sooner or later you will find a connection to the UN."
"It was great to get first hand information, I did not know that there are so many programmes and possibilities to work at the UN. I am much better informed now," said one of the participants of the workshop. Not only were the people who visited the information stand better informed about career opportunities at the UN afterwards, but most of them also left with a better and keener awareness about what the UN does as an organization and what goals it aims to achieve.