Events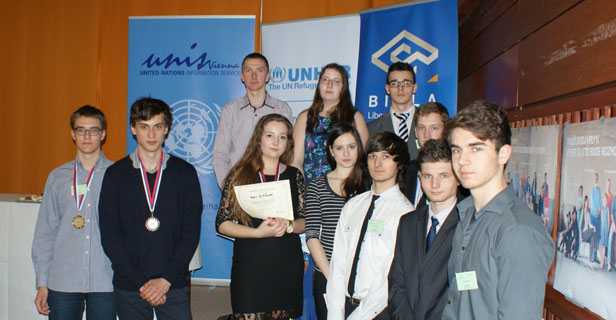 A new generation of Slovak Human Rights Advocates
More than 60 high school students accompanied by their teachers met at the statewide final round of the 16th Human Rights Olympics in Modra-Harmónia, Slovakia to pay tribute to the protection of human rights, to exchange knowledge and also to compete for the championship. The final round was held from 26 - 28 March 2014 in the premises of the Study and Congress Center of the Bratislava Comenius University, with the main theme: "Human Rights in Slovakia after 20 years".
Held under auspices of the Minister of Education, Science, Research and Sport Dušan Čaplovič, the 16th Human Rights Olympics was organized by the Statewide Olympics Committee for Human Rights Olympics, IUVENTA - Slovak Youth Institute, Slovak Information Office of the European Parliament, Comenius University Bratislava, UNESCO Chair for Human Rights Education at the Bratislava Comenius University, in cooperation with partners - Ministry of Foreign and European Affairs, UNESCO, UNIS Vienna, UNHCR, Slovak Helsinki Committee for Human Rights, Leaf NGO, BISLA - Liberal Arts College and the Alumni Club of Human Rights Olympics.
Using the words of UN Deputy Secretary-General Jan Elliasson, UNIS Director Janos Tisovszky stressed in his video message that "respect for human rights should be our way of life" and that in our age of globalization - responsible global citizens should be able to contribute to a world where human rights are understood, upheld and honoured - and the Human Rights Olympics are certainly a good example of how to work towards this goal.
Divided into four groups, finalists demonstrated their knowledge and skills in front of four juries from the first day onwards. To start with, each of them had to solve one fictitious situation, primarily based on real stories from Slovakia, for example the treatment of disabled people, homosexuality, promotion of totalitarian regimes, childcare, national minorities, amongst others. The defence of their essays by all the finalists marked the second part of the competition. Standing in front of the jury on the third day, each of the main finalists had to take a stand towards a model situation or a theme, chosen randomly, such as the referendum in Crimea, the gender pay gap, the integration of foreigners and children´s euthanasia.
Another part of the competition was the evaluation by partners including UNIS Vienna of essays on the theme "Strengthening democracy through education: Growing up as a global citizen". The UNIS Vienna Director highlighted the crucial role that education and educators play in human rights. The team of UNIS Vienna chose and awarded three winners: Ondrej Škvarenina (Business academy, Topoľčany); Martin Ševčík (Private bilingual high school, Prešov) and Natália Brucháneková (Evangelical gymnasium, Tisovec). Congratulations to all of them. UNIS Vienna is looking forward to welcoming Ondrej Škvarenina soon on a visit to the UN premises in Vienna.