Events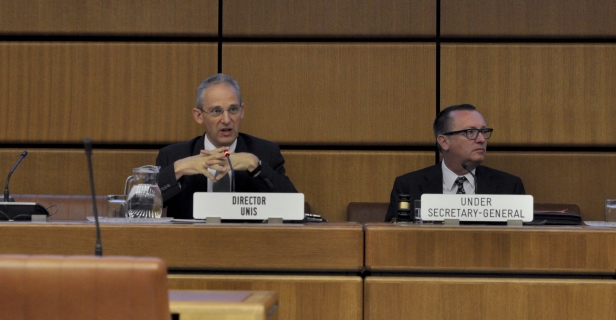 Briefing by USG for Political Affairs, Jeffrey Feltman: "Most conflicts are political and need a political solution" 

This was one of the key messages from the UN Under-Secretary-General for Political Affairs, Jeffrey Feltman, in a briefing at the United Nations Office at Vienna on 8 September. On his first official visit to the United Nations in Vienna, Feltman gave a briefing on "Regional approaches to conflict prevention, peacemaking and peacebuilding: the state of the international system today" and also answered a wide range of questions. Feltman, who was appointed by UN Secretary-General Ban Ki-moon as the Under-Secretary-General for Political Affairs in July 2012, said the Secretary-General made it very clear to him from the outset that he wanted him to improve the UN's work on preventive diplomacy and to make the Department of Political Affairs a centre of excellence for conflict prevention and resolution.
In his webcast briefing to the staff of the Vienna-based organizations, Member States and other groups, Feltman talked about the challenges faced by the UN in conflict prevention, peacemaking and peacebuilding because of the changing nature of conflicts that have become multiple, overlapping and complex. He also spoke about the importance of the United Nations working with regional organizations and local actors in conflict prevention and meditation work. "We need to pool our efforts for peace and while bilateral, regional and multilateral diplomacy may work differently, when they combine their clout the results can be powerful," said Feltman.
The Under-Secretary-General also expressed his concern about Ebola in Africa, and said the Secretary-General was fully focused on the outbreak. "I am worried about it from the peace and security angle," Feltman said. "When you start to shut down borders, which is a natural reaction which some countries may have, when you start to isolate things, you start to have a collapse of governing structures."
With more than 30 years of experience in bilateral diplomacy with the US State Department, Under-Secretary-General Feltman also spoke about the leverage and legitimacy the United Nations as a multilateral organization with near-universal membership brings to the table and the value of the perspectives of UN staff because of their diverse national backgrounds.
Earlier in the day, Feltman, together with the Assistant Secretary-General for Human Rights, Ivan Šimonović, addressed the Permanent Council of the the Organization for Security and Co-operation in Europe (OSCE). All of the speeches are available at http://www.unis.unvienna.org/
Photos of the UN event are available at https://www.flickr.com/photos/unisvienna/sets/72157647382351975/
Audio of the two events is available at [ http://www.unis.unvienna.org/unis/media/audio/index.html]