Events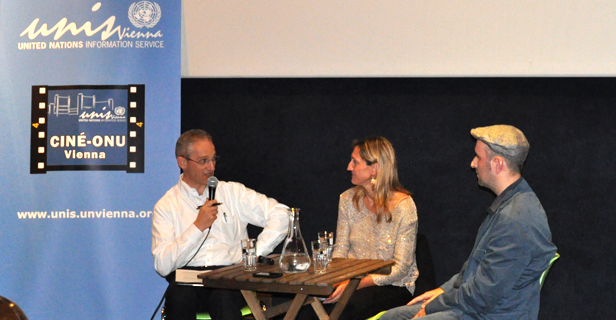 Drawing for freedom and peace: Cine-ONU Screening of "Cartoonists - foot soldiers for democracy"
"Cartoons make us laugh. Without them, our lives would be much sadder. But they are no laughing matter: They have the power to inform, and also to offend," said Kofi Annan, Nobel Peace Prize winner and former Secretary General of the United Nations, at the symposium "Unlearning Intolerance" in 2006 when launching the UN initiative "Cartooning for peace".
Today "Cartooning for peace" is a network of 104 cartoonists around the world who use the power and language of images to fight for peace and freedom of expression. The network aims to promote a better understanding and mutual respect between people of different cultures and beliefs using cartoons as a universal language.
To mark United Nations Day 2014 and in honour of the UN initiative thought up by the French cartoonist Plantu at "Le monde" newspaper, Cine ONU Vienna screened the documentary "Cartoonists - foot soldiers for democracy" by the French director Stephanie Valloatto on 20 October 2014.
The film portrays twelve cartoonists around the world who are members of the "Cartooning for peace" initiative and in some cases defend democracy even at the risk of their own lives.
The Cine ONU Vienna film screening, organized by the United Nations Information Service (UNIS) Vienna in cooperation with the French Permanent Mission to the UN (Vienna) and Topkino, was followed by a debate with film director Stephanie Valloatto, Bernd Ertl, an Austrian cartoonist and member of the "UN cartooning for peace initiative", with UNIS Director Martin Nesirky as moderator.
Stephanie Valloatto explained that they were aware of the risks the cartoonists featured might face while making the film. However, according to her, all of those involved told her it was important for them to be seen. The "Cartooning for Peace" initiative also provides protection and legal assistance to cartoonists working in difficult environments, as well as advice and support to them in the exercise of their profession.
"Social media offers a big opportunity for cartoonists. It gives great freedom, you can say what you want and if it gets shared, you did something right," said Bernd Ertl. Some of the Cartoonists shown in documentary started with social media to get their message out, such as the cartoon "Willis from Tunis" which was distributed via Facebook. Nevertheless, both Ertl and Valloatto raised the downside of social media when it comes to publishing and sharing harmful content.
"With the film 'Cartoonists' we continue a long history with the United Nations which began in 2006," Valloatto said after the film screenings in Vienna and in Brussels in September 2014, appreciating the work of the UN to protect and defend the most fundamental values.