Events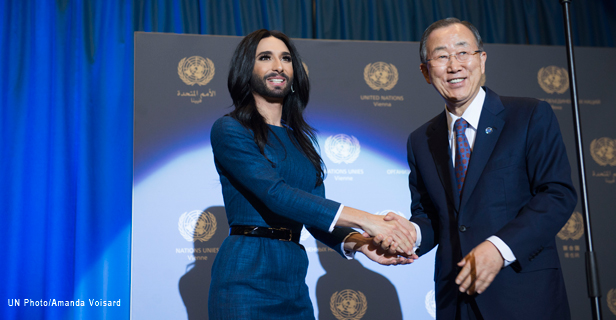 Conchita Wurst performing live at the UN in Vienna: together with UN Secretary General for tolerance and mutual respect
"I dream of a future where we don't have to talk about sexual orientation, the colour of your skin, your religious beliefs," said the 2014 Eurovision Song Contest Winner, Conchita Wurst, to the United Nations Secretary-General Ban Ki-Moon and hundreds of UN staff and diplomats, during an event at the United Nations Headquarters in Vienna on 3 November.
The Austrian Eurovision star said that in many countries some people think "human rights are just for some people and not for everybody but that's not true and we all know that." She asked the audience to support equality for the Lesbian, Gay, Bisexual, Transgender and Intersex (LGBTI) community. "Each and everyone wants to be respected, and to receive respect. But you can only be respected, if you respect others," she said.
The Secretary General told the audience that the Austrian singer was promoting respect for diversity which is a core value of the United Nations. 'What made her win so meaningful was the way she turned her victory in the Song Contest into an electrifying moment of human rights education," he said, "As United Nations Secretary-General, I am proud to champion the cause of equality for all members of our human family no matter who they are or whom they love."
The highlight of the event was Conchita's live performance of the winning Eurovision song "Rise like a Phoenix" and "Believe" which thrilled the hundreds of UN staff members, diplomats and members of civil society at the event in the Rotunda of the Vienna International Centre.