Events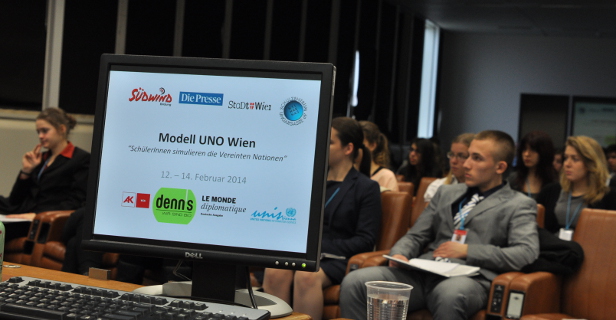 Simulating the UN - the Vienna Schools Model United Nations 2014
A large number of teenagers dressed in business attire striding the corridors of the United Nations Information Service (UNIS) in Vienna - this might not be what you expect to encounter when visiting the Vienna International Centre. But this is exactly the scene you could have come across from 12 - 14 February, when the Vienna Schools Model United Nations (VS MUN) 2014 took place here. This year, more than 120 16- to 18-year-old students seized the opportunity to gain a better understanding of the UN's goals and values by simulating its work. While most of the participants were from Vienna, a group of students from Berlin, Hamburg and even Liechtenstein added international flair to this Model United Nations.
Taking the role of delegates from different member countries, the students formed ten committees and engaged in debate over a wide array of current global issues, ranging from climate change, the environment, nuclear disarmament, education to peace and development, drug policy and terrorism prevention.  In order to accurately represent their country's interests, students needed to put aside their own ideas and personal views and work together with fellow delegates towards finding common ground and drafting a resolution. A task that turned out to be surprisingly challenging as Afrida and Felix, two of the participants, said: "We wouldn't have thought that it would be this hard to achieve a consensus. Now we understand how difficult the work of the United Nations truly is."
The resolutions passed within the committees were further discussed and put to the vote in the plenary session of the General Assembly. Only resolutions with a two-thirds majority were adopted.
The VS MUN offered participating students not only a unique insight into the inner workings of the UN system, but  also enabled them to meet with other young people equally passionate about international affairs and to hone their negotiation and debating skills while discussing some of today's most pressing problems.
In her closing remarks, Anne Thomas, Deputy to the Director of the United Nations Informations Service (UNIS) Vienna, congratulated the students on their enthusiasm and hard work and expressed her hope that they could see more clearly how the challenges that lie ahead of us cannot be tackled successfully by one single country, but require the entire international community to act as a unified front.
Each and every nation's future security and prosperity can only be achieved if we shift the focus from what divides us to what unites us.