Events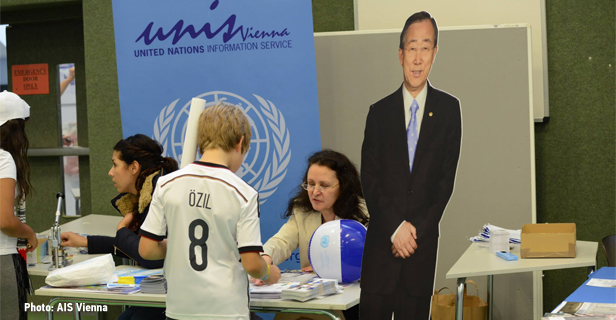 UN Day at the American International School
On 16 October, the annual United Nations Day was celebrated at the  American International School with the active participation of parents, UN staff and, of course, students. With some of the children wearing their national dress, they perfectly represented either their home country or multiculturalism.
During the opening ceremony, children from the 1 st to the 4 th grade performed songs and different dances to demonstrate the importance of peace and multiculturalism. It was a pleasure for everyone in the audience to watch the young people standing up for children's rights and peace. Besides the entertainment acts, the American Ambassador, Alexa Wesner, explained in her speech what it takes to be a "good global citizen", trying to motivate people to contribute to combatting climate change, the protection of children's rights and peace.
Anneliese Heber from the United Nations Information Service (UNIS) Vienna spoke about the birth of the United Nations on 24 October 1945 with the signing of the UN Charter, as well as telling the children about the work of the United Nations, in particular its role standing up for children's rights.
After the opening ceremony, children had the chance to explore the culture and history of different countries, offering them the possibility to draw, play games and, in the case of the UN stand, make badges.