Events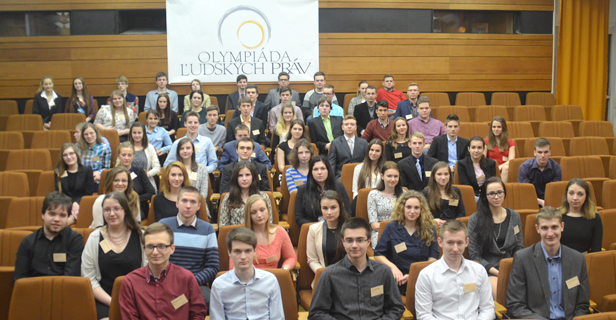 17th Human Rights Olympics, 25 - 27 March 2015
"Am I or am I not Charlie?"  was one of the human rights questions to be heard at a three-day competition on human rights that was held from 25 - 27 March 2015 in Modra-Harmónia, not far from the Slovak capital, Bratislava. This year´s final round of the Human Rights Olympics was not only a demanding competition for secondary school students but also a meeting platform for young human rights defenders.
The annual Human Rights Olympics is organized in secondary schools across Slovakia and involves hundreds of students. Having passed knowledge tests and written an essay, this year eight students from each of Slovakia´s eight regions advanced to the final state-wide round. Each student had to solve a case study and defend their submitted essay. The juries, composed of human rights experts and teachers, then chose the 12 best finalists for the very grand final round. The young participants had to be prepared to solve another case on any given human rights topic. Topics included multiculturalism, immigration, violence against women, torture and suicide.
In his keynote speech during the opening ceremony on 25 March, Martin Nesirky, Director of United Nations Information Service (UNIS) Vienna, stressed that this year´s Human Rights Olympics theme "Right to Education and its Key Aspects" was very  important: "Education is not only the foundation of development and peace., it is also crucial to ensure that human rights are being respected."
He also mentioned that UN Secretary-General Ban Ki-moon considered education one of his priorities and founded the initiative "Global Education First", which focused on putting every child in school, improving the quality of learning and fostering global citizenship.
The Director also thanked the organizers and teachers for their dedication and inspirational leadership and encouraged finalists to continue their commitment so that human rights become a reality for everyone, everywhere, every single day of the year.
Slovakia´s Human Rights Olympics is held under the auspices of the Minister of Education, Science, Research and Sport, Juraj Draxler. Every year, UNIS Vienna sets one English essay theme. This year's theme "Ending poverty with the help of education" was chosen by six students. Essay winner Kristína Chlebáková of the Gymnázium Ľ. Štúra 26, from Michalovce, Eastern Slovakia will be invited to come to Vienna and join a guided tour at the premises of the United Nations.