Events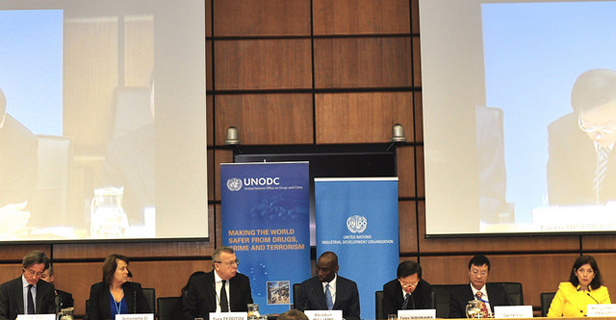 Vienna in spotlight on Millennium Development Goals and Post-2015 agenda
Senior officials from Vienna-based United Nations organisations got together with academics, diplomats and students in January to discuss how they will build on the Millennium Development Goals (MDGs) and contribute to deliberations on what comes next.
"The Post-2015 development agenda is a call to action - to take up the unfinished work of the MDGs, to take advantage of innovations and new technologies that have emerged since 2000, and to work together for a better, more just world," said Yury Fedotov, Director-General of the United Nations Office at Vienna (UNOV), at the opening session of the 6 th Annual Conference of the Academic Council on the United Nations System (ACUNS) which took place in Vienna from  14 to 16 January 2015.
Under the title "Lessons Learned from the Millennium Development Goals and Perspectives for the Post 2015 Development Agenda", 300 UN representatives, diplomats, scholars and students discussed how the Vienna-based UN organizations are working on and toward the proposed Sustainable Development Goals. ACUNS is a global professional association of educational and research institutions, individual scholars and practitioners active in the work and study of the United Nations, multilateral relations, global governance and international cooperation.
At the ACUNS Vienna Conference, senior UN representatives spoke in interactive panels with diplomats, academics and students about the activities they are pursuing to reach these sustainable objectives. Themes included "inclusive and sustainable industrial development", "gender equality and the post-2015 agenda" and "the unique contributions of nuclear techniques to the post-2015 agenda".
The conference was organized by ACUNS and hosted by the United Nations Industrial Development Organization (UNIDO) and the Ministry of Europe, Integration and Foreign Affairs, with the help of the United Nations Information Service (UNIS) and other partners. Participating organizations were the United Nations Office on Drugs and Crime (UNODC), the International Atomic Energy Agency (IAEA), the Preparatory Commission of the Comprehensive Nuclear Test-Ban-Treaty Organization (CTBTO), the United Nations Office for Outer Space Affairs (UNOOSA), the City of Vienna, the Sustainable Energy for All Initiative (SE4ALL), the United Nations Commission on International Trade Law (UNCITRAL), the University of Vienna and the Diplomatic Academy of Vienna.