Events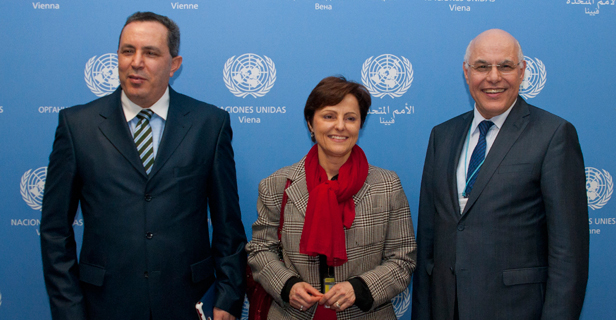 The 2015 United Nations French Language Day
Each year, the UN dedicates a Language Day to each of its six official languages as a symbol of multilingualism and multiculturalism. For this year's French Language Day, observed on 20 March, four films were presented at the Vienna International Centre (VIC). The film series was organised by the Groupe des Ambassadeurs Francophones (GAF) in cooperation with the United Nations Information Service (UNIS) Vienna and held under the auspices of the Director-General of the United Nations Office at Vienna,  Yury Fedotov.
Ambassador Marion Paradas and Ambassador Omar Hilale, the Permanent Representatives to the United Nations of France and Morocco respectively, opened the event on 20 March, followed by the screening in the UNIS cinema of the The Cartoonists, Foot Soldiers of Democracy.  The 2014 documentary chronicles the experiences of 12 cartoonists in 12 different countries and their attempts to wield their pens against censorship and political oppression. Funny yet inspiring, the feature debut of French director Stephanie Valloatto  is above all an examination of free speech in all its facets, which in light of the recent attack on the French satirical weekly Charlie Hebdo remains as salient as ever. "All of us here think in images. Our true mother-tongue isn't Arabic, French or English, it's the image, " says one French caricaturist in the film.
The second and third films in the series, both by Egyptian director Saad Hendawy , were shown in the original Arabic with French subtitles. Hendawy's work deals with human nature through a mystical, spiritual lens. His first feature film,  Seventh Heaven, screened on 23 March, invokes the beauty of Sufism against the backdrop of a love story between a woman and a dancer. Doaa… Aziza, presented on 25 March, is a documentary film that depicts the physical and psychological journey of two girls, each of whom is planning to leave their own country for the dream of a new life in the home country of the other.
La Grande Villa, by Moroccan director Latif Lahlou,concluded the film series on 25 March. The film portrays a Parisian family's preparations to return to Morocco, and the conflict their decision generates in their relationship to one another. The Permanent Mission of the Kingdom of Morocco hosted a reception after the screening.