Events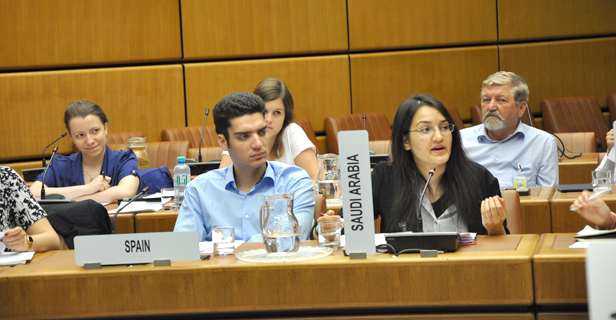 Students from the University of Vienna discuss Yemen crisis at simulation of the United Nations Security Council
Students of political science, international relations, law and history from the University of Vienna took part in a United Nations Security Council simulation at the Vienna International Centre (VIC) on 11 June 2015. The event, organized by Professor Ingfrid Schütz-Müller in cooperation with the United Nations Information Service (UNIS Vienna), was part of a seminar titled "The UN System and its Role in International Politics" at the University of Vienna in which lecturers from different Vienna-based international organizations and several Ambassadors took part.
Representing the different Member States of the Security Council, the students discussed the current situation of Yemen in a meeting room at the United Nations Office in Vienna. Crisis management expert Angelika Köpf played the role of UN Secretary-General, with Klaus Billand, former UNIDO expert in the role of Security Council President.
After presenting their well-prepared statements, the students engaged in a lively debate with the goal to develop a Chapter VII resolution. Throughout the day the students had heated discussions. The simulation concluded with the adoption of a resolution on improving the humanitarian situation in Yemen.  The realistic experience with international politics left the students motivated and very interested to engage more with UN topics.
"In a political science curriculum it is useful to learn about theories, but it seems to be more important to know how international institutions like the UN are really working," emphasized Professor Ingfrid Schütz-Müller in his closing remarks at this successful event.