Events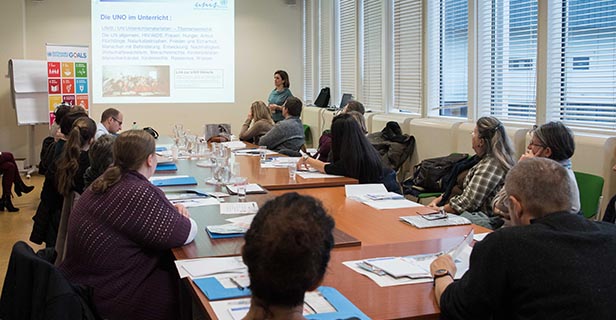 How to engage young people in global issues: teaching the UN and sustainable development
VIENNA, 26 November 2015 - Twenty one primary and secondary school teachers from Vienna visited the Vienna International Centre (VIC) to take part in a workshop on "Teaching the UN and the new Sustainable Development Goals" on 26 November 2015.
The aim of the workshop was to give the participants an overview of the work and priorities of the United Nations, especially the newly adopted Sustainable Development Goals (SDGs), and to present existing online teaching material and services offered by the United Nations Information Service (UNIS) and the UNIS Visitors Service.
The participants first had a guided tour of the VIC, followed by a presentation about the the work of the UN in Vienna and worldwide. Then the teachers heard about the available teaching materials and how to integrate these topics in the curricula, ranging from background information, worksheets, videos, games, competitions, and even a mobile phone application. These various resources can easily be used in the classroom to engage students of different ages with the subject matter. With the special focus of the workshop on sustainable development, the teachers learnt more about the teaching tool on the Sustainable Development Goals "The World Largest Lesson", developed by the United Nations Educational, Scientific and Cultural Organization (UNESCO).
After the presentation the teachers had a brainstorming session on how to use the materials presented during their daily activities with their students. They were also encouraged to make use of information on sustainable development and the teaching tool "Together Strong" in German which is available on the UNIS Vienna website. The participants were also informed about the "UN70 in Classroom" initiative where UN staff members visit schools at the request of the teacher and give an interactive lesson on the work of the United Nations and the new Sustainable Development Goals, which this year includes 'time travel' with objects used over the last 70 years since the founding of the organization.
The response from the teachers at the workshop was overwhelmingly positive. "The presentation was very informative, and I am sure that I can use these materials in my class too" said one of the participants.
The "Teaching the UN" workshops are organized by UNIS Vienna in cooperation with the University of Teacher Education in Vienna and are offered regularly as part of the mandatory training programme for teachers.