Events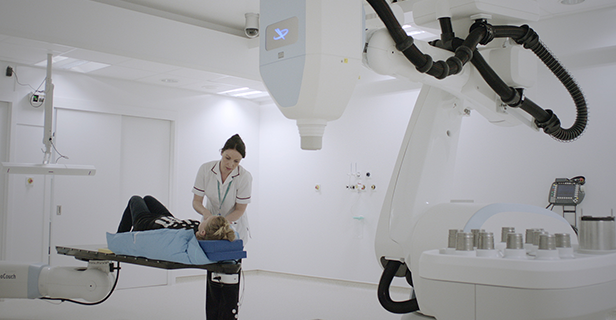 Treating cancer: piecing together the puzzle
Ciné-ONU Vienna film screening of ' The Enemy Within'
To mark World Cancer Day on 4 February 2016, Cine-ONU Vienna presented "The Enemy Within", which shows the history of our fight against cancer over the last 50 years featuring scientists, physicians, politicians and patients who have helped to piece together the puzzle that is cancer treatment. The film is moderated by the science journalist and author Vivienne Parry.
The documentary recounts how far we have come in the field of cancer since the 1960's, looking at the progress made and exploring the challenges that lie ahead in conquering this disease that "always stays one step ahead of us".
Following the film there was a panel discussion with the Director of the Programme of Action for Cancer Therapy (PACT) at the International Atomic Energy Agency (IAEA), Nelly Enwerem-Bromson, the President of Europa Donna Austria, Mona Knotek-Roggenbauer and a Senior Expert in health care planning from Gesundheit Oesterreich, Stephan Mildschuh, moderated by UNIS Director Martin Nesirky.
Mona Knotek-Roggenbauer from Europa Donna Austria gave her reaction to the film ( listen here - mp3)
Nelly Enwerem-Bromson from the IAEA says the progress in cancer therapy has not been even around the world ( listen here - mp3)
Stephan Mildschuh said the film really touched him ( listen here - mp3)
Nelly Enwerem-Bromson said prevention is part of the work of the IAEA's Pact programme ( listen here - mp3)
Stephan Mildschuh did a study on waiting lists for cancer patients in Austria ( listen here - mp3)
Mona Knotek-Roggenbauer explained more about the work of her non-governmental organization ( listen here - mp3)
You can see the Europa Donna film here: http://www.europadonna.at/index.php/galerie/videos-zum-thema-brustkrebs/selbstuntersuchung-der-brust
The facts: cancer is the leading cause of death worldwide and accounted for 7.6 million deaths (around 13 per cent of all deaths) in 2008. About 70 per cent of all cancer deaths in 2008 occurred in low- and middle- income countries and deaths from cancer worldwide are projected to continue to rise to over 13.1 million by 2030.
The film was screened by the United Nations Information Service (UNIS) Vienna in cooperation with PACT/IAEA, This Human World (THW) Film Festival and Topkino.