Events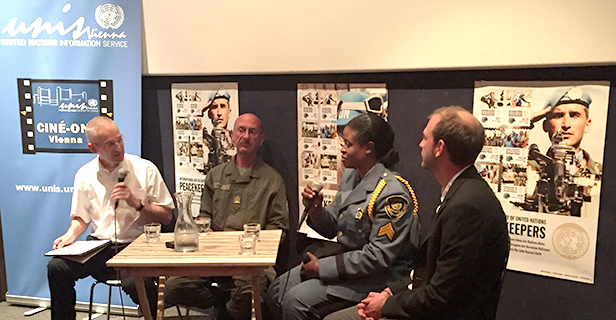 A Journey of a Thousand Miles: Peacekeepers
To mark the International Day of United Nations Peacekeepers on 29 May, Ciné-ONU Vienna presented "A Journey of a Thousand Miles: Peacekeepers", a documentary that follows an all-female predominantly Muslim peacekeeping unit on a year-long mission with the United Nations Stabilizing Mission in Haiti (MINUSTAH). These women come from all corners of Bangladesh and travel far from their families, friends, and familiar life to do their duty in post-earthquake Haiti. 
The film shows the challenges of serving in a UN peacekeeping mission and the contribution of UN peacekeeping operations to peace and security worldwide. It also highlights the training process for UN peacekeepers prior to and during deployment. This documentary places a special focus on women serving in peacekeeping operations and follows them on their journey as they shatter commonly-held stereotypes.   
Following the film there was a discussion with the Deputy Commandant and Chief of Staff of the Austrian Armed Forces International Centre (AUTINT),  Karl Wolf, Peace and Conflict Researcher from the University of Graz, Maximilian Lakitsch, and Security Sergeant of the Security and Safety Service, United Nations Office in Vienna (UNOV), Ajuma Echikwu. The Director of the United Nations Information Service (UNIS) Vienna, Martin Nesirky, moderated the lively discussion.
The film was screened by the UNIS Vienna in cooperation with This Human World (THW) Film Festival and Topkino.