Events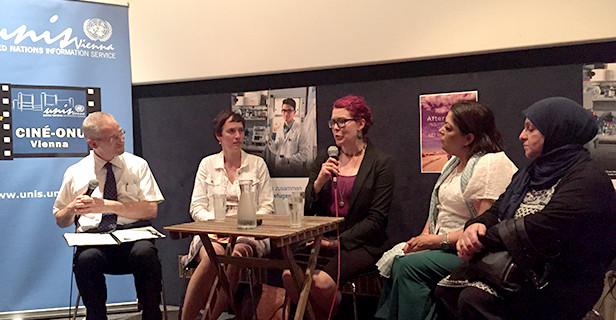 Daily life in a refugee camp - film screening of "After Spring"
To mark World Refugee Day on 20 June 2016, Ciné-ONU Vienna presented "After Spring", a documentary that shows the effect of the Syrian conflict, now in its sixth year, on the millions of displaced people. By following two refugee families in transition and aid workers fighting to keep the camp running, the film gives a grim insight into the Zaatari refugee camp in Jordan which is the largest camp for Syrian refugees and the second-largest such camp in the world.
The exceptional documentary focuses on the daily life of people in Zataari, which began as temporary village of tents in July 2012 and is now a city of caravans including a pizza restaurant, pet shops, an art gallery, a mobile-phone store and has its own "Champs Elysees". The film portrays all facets of the camp, both positive and negative, where everyone must decide themselves if they can rebuild their lives in a place that was never meant to be permanent.
The screening was followed by a discussion with the Co-Producer of the film, Jenn Durrett, the Head of Protection Unit of the United Nations High Commissioner for Refugees (UNHCR) Office in Austria, Birgit Einzenberger, and a refugee from Syria, Wardeh Mousa Alyounes. The Director of the United Nations Information Service (UNIS) Vienna, Martin Nesirky, moderated the panel discussion.
Jenn Durrett spoke about the challenges of making the film, such as gaining access to the camp and finding the families willing to be filmed. She said the production team also faced language barriers: "We worked with a team of 24 different translators."
Birgit Einzenberger from UNHCR drew attention to their #WithRefugee campaign which invites ordinary citizens "to show solidarity with refugees and to motivate politicians to keep the borders open".
Wardeh Mousa Alyounes from Syria shared her experience of starting a new life in Europe and talked about the integration of her children in school as well as their future dreams which are now possible here in Austria.
After its world premiere at the Tribeca Film Festival in New York in April 2016, the Vienna screening was the film premiere of "After Spring" in Austria, organized by the United Nations Information Service (UNIS) Vienna in cooperation with the Permanent Mission of the United States of America to the United Nations (Vienna), the United Nations High Commissioner for Refugees (UNHCR) Office in Austria, This Human World (THW) Film Festival and Topkino.