Events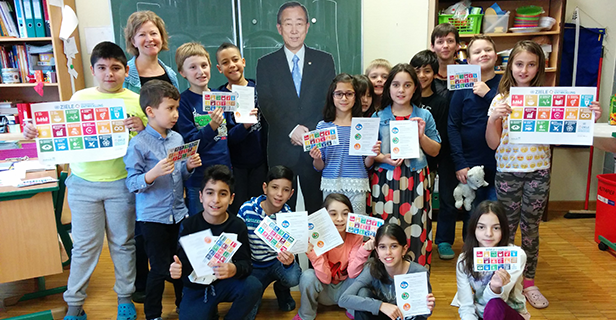 The United Nations goes to school
The UN Information Service is bringing the Sustainable Development Goals to classrooms in Vienna. The special outreach programme teaches children aged 9-15 years about the Sustainable Development Goals through games, discussions and activities.
During the one and a half hour session, the classes are asked to identify problems that face the world, then they look at how the United Nations is tackling them. In one particular activity, children are shown pictures of scenes from around the world - classrooms in Nigeria, food aid in Somalia, poor quality drinking water in India, refugees from Syria - and are encouraged to talk about how these relate to the 17 Sustainable Development Goals (SDGs). The pictures are compared with images from Europe during the Second World War, to show the children that these issues are not disconnected from them. The photos put in perspective the problems some children face around the world; having clean drinking water, enough to eat and medicine if they get sick.
The school classes learn how the 193 Member States of the United Nations also identified these global problems, which led to the creation of the 17 Sustainable Development Goals. In the workshop, students are taught that we must all work together, and everyone can play a role in working towards building a more just world.
At the end, simple solutions are discussed that every child can do at home, such as turning off the lights, taking shorter showers, not wasting food, and recycling.
The UN in classroom session encourages an open and informative discussion amongst the children, which is positively received by both teachers and students. Overall the children have been eager to participate and have learned a great deal.