Events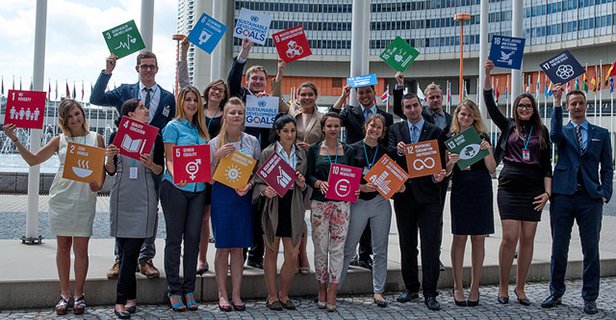 Working Together:
Global Challenges approached at Vienna International Model United Nations (VIMUN) 2016
"You gather at a time of turmoil and tension, a time of uncertainty and unpredictability. But equally it is a time of opportunity and hope," said United Nations Information Service (UNIS) Director Martin Nesirky at the opening of the Vienna International Model United Nations (VIMUN) 2016 that took place from 31 July to 4 August at the Vienna International Centre (VIC). The United Nations simulation conference, organized by the United Nations Youth and Student Association of Austria - Academic Forum for Foreign Affairs (UNA-AFA) and hosted by the United Nations Office at Vienna (UNOV), gathered more than 200 students aged between 18 and 35 from 37 countries around the world.
This year's VIMUN featured six committees where the students discussed about "Human Rights and Private Military Companies", "Nuclear Terrorism", "Protection of Civilians in Armed Conflicts" and "Genetic Manipulation and Gene Therapy" as well as "Combating Human Trafficking" and "Global Employment Crisis". VIMUN participants have a bonus and experience added realism because the entire event actually takes place in UN conference rooms at the VIC.
UNA-AFA President Michael Pfeifer and VIMUN 2016 Secretary-General Alexander Henzl welcomed the Model United Nations delegates to Vienna. The UNIS Vienna Director highlighted the 17 Sustainable Development Goals (SDGs) that were adopted by world leaders in New York in September 2015, and encouraged participants to make the Goals part of their discussions and link them to their committee decisions. As the four days of debates and the search for consensus concluded, the SDGs had indeed been reflected.
Maxine Jacobs from the Conference Management Service at the UN in Vienna, which supports VIMUN every year, was impressed that for the first time there was not one request for copies from the different committees. Instead, she said, "they exchanged information through Facebook and used their laptops". This was a simple but effect and responsible way to work towards Goal number 12: "Responsible Consumption and Production". That also fitted neatly with this year's International Youth Day (12 August 2016), which focuses on the leading role of young people in ensuring poverty eradication and achieving sustainable development through sustainable consumption and production.
In his Twitter chat about the International Youth Day the UN Secretary-General's Envoy on Youth, Ahmad Alhendawi, advised young people who want to make a change: "Start by making small changes. It's not about changing the world but changing one thing that could change the world." He said the world needs "Democracy 2.0" to better respond and engage with youth and that politics should also be more accessible.
VIMUN 2016 Co-Secretary-General Viktoria Forstinger noted in her closing speech: "You have discussed extremely relevant topics for countries, continents and the whole world." She said those topics were likely to remain highly relevant for the foreseeable future. She drew attention to the topic of elections and how important it is to use and fight for the rights of voting. She added: "Here at VIMUN, we once again saw that only by working together, by finding partners who are willing to work together as equals, has a paper been really put forward. Collaboration is one of the most important facts in order to reach an agreement."
Participants said this year's VIMUN was a memorable experience. Grégoire Antonin Francois Baury said VIMUN would help young people to open their minds and work together. Bahara Muradi said the conference had shown her how different cultures come together, mix and create a beautiful world.